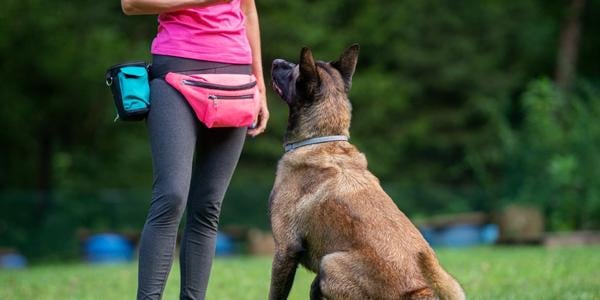 There are a lot of dog training supplies out there to pick from, and carrying it all with you when you need it without juggling can be a challenge.
You may find yourself wondering why you even need all the stuff that your dog trainer may ask you to have on hand when you attend classes or meet for a private session. From different leashes to treat pouches to a variety of treat types.
And then how do you carry it all with you so it's easy to access and you don't feel like you're juggling the leash, dog, treats, clicker, and more? The answer: set up a dog training belt or kit! I'll outline how I do this as a professional dog trainer so you can mix and match your own dog training gear for your needs.
You shouldn't only "gear up" for training when you're headed to class with your pup. I recommend that whenever you take your dog for a walk or on adventures, you're prepared to reinforce them for great behavior (and also ready to prevent unwanted approaches by off-leash dogs or wildlife).
Your dog is always learning, so you always need to be prepared to teach!
Having the right dog training gear means that training is easier for both you and your dog! And when training is easier, that means training is faster and more fun. I get asked a lot about what gear I'm wearing or using by clients of mine, so I want to share my current training gear setup. This way, you can build your own dog training belt or kit.
Training Supplies I Use as a Professional Dog Trainer
Dog Training Belt & Treat Bags
You'd be surprised by how helpful a training belt and treat pouch combo turns out to be. Treats can be difficult to grab quickly from a pocket, they easily fall out of pockets, and they make your clothes rather … stinky. Plus, if you don't wear the same jacket or pants every training session, you have to reload your treats over and over.
Depending on where I'm training and what (and how many) treats I'm using, I switch between three types of treat pouches.
In some cases, I actually wear two pouches at the same time:
One for fresh, stinky treats
Another for my semi-moist or dry dog training treats.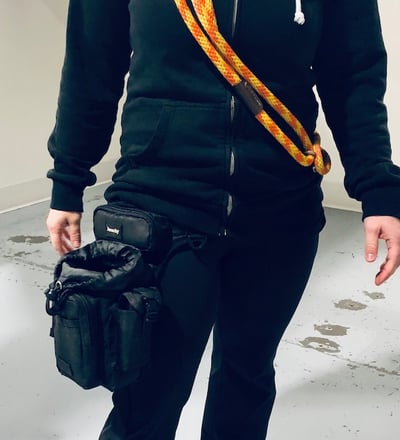 Because trust me, you don't want to accidentally ruin an entire pouch of treats by forgetting about the fresh meat and leaving it out for a few days.
My main treat pouch is actually a modified tactical thigh bag. It's BIG. But I need it to be large enough to carry most of my supplies and have everything within easy reach. Plus, the extra pockets on the bag allow me to stash my car keys, phone, face masks, and other supplies during training sessions. I don't want to carry everything in my pant or coat pockets. And having a large treat bag means I never run out of treats.
I cut off the top flap and can easily use the cinch closure to block a dog's access to the treats — it's right at a large dog's face level, and I can't really blame them for thinking of it as a perfectly placed feed bag. The wide padded belt of this bag allows me to attach other supplies as needed, such as a portable water bowl, umbrella, etc.
My second treat bag for fresh and moist treats is the Voilà Ultimate Treat Pouch. Keeping the squishy treats separate from my dry treats means that it's easy to keep both treat pouches clean and for me to know what pouch to reach into based on a dog's performance (or distractions). The Voilà Ultimate Treat Pouch is a popular option for dog trainers, and it sells out quickly. I often get asked by training clients where I got this pouch whenever I teach a class or do an in-person training session. It seriously has become my all-time favorite option. As a special treat for my readers, use the coupon code PV10 to get 10% off your own Voilà treat pouch!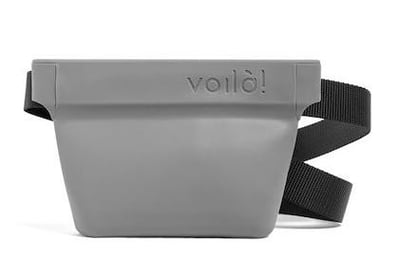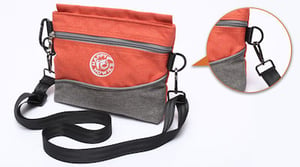 I also sometimes may use the Happy Howie's treat bag, which is nice and large but not as bulky as the thigh rig. You have the option to wear it crossbody or around the waist. I also like that it has a stay-open and snap-close top and extra zippered pockets. If you like this style but don't need the larger size, I recommend this similar treat bag from PetSafe.
What's in My Dog Training Kit?
Low and medium-value dog treats
This usually tends to be a mixture of dry kibble or Charlee Bear treats (low-value treats), and Ziwi Peak or Happy Howie's dog treats (medium-value treats).


I have at minimum 2 cups of dry or semi-moist treats in my pouch — this is why I need a large treat bag. If you're just going for a nice walk around the neighborhood, you likely do not need this much. But never underestimate how many treats you'll need for a training class or private session! You'd be surprised how often my clients run out of their own training treats and need to reload from my stash.

Make sure treats are cut into tiny pieces (pea-sized or smaller).
Pro Tip: When you're attending a group training class with your dog, or working with your dog in a new environment, use something better than kibble! Many of my group class students ask why their dog is so responsive to me when I demo with them, compared to not wanting to listen to them. Part of it is that I have the better treats! Stack the deck in your favor and bust out the good stuff when working in new or distracting places.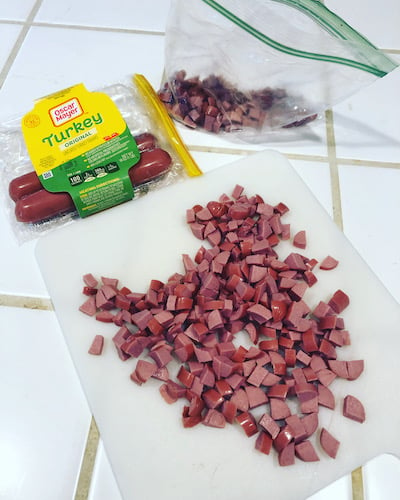 High-value dog treats
Variety truly is the spice of life! And each dog has their individual preferences when it comes to what they consider high-value. Plus, I have to plan ahead for dogs that may have allergies or food sensitivities. I keep about a cup of high-value treats in my treat bag, either in a Ziploc® bag inside of the pouch (on top of the other dry treats) or in a separate, smaller treat bag.


Be aware of the fat content in the high-value treats you're using, as well as what your dog may be sensitive to. Too much of anything can cause an upset tummy, and we want to avoid pancreatitis.



My current high-value treat rotation:

FreshPet dog food (this is soft dog food – and must be kept refrigerated – and is smelly and often something novel for dogs I work with.)
Hardboiled eggs



Poop Bags
Always carry extra poo bags! Whether for your own dog, who, like mine, may be a double- (sometimes triple-) pooper on walks or for errant piles you encounter on your walking route.


Clicker
If a dog is clicker trained, it's important to keep a clicker handy! I always opt for a quiet button clicker over the metal box clickers. While I primarily use a marker word like "Yes!" more than a clicker with private training clients, I want to be consistent with each dog I work with. On the flip side, I use the clicker more than a marker word during group training classes. My dogs are trained for both so I always have an easy way to tell them exactly what they got right and they are about to be paid for it.


Portable water bowl & water
This technically isn't "in" my treat pouch, but I attach this portable bottle/dog bowl combo to the treat pouch waist belt. It's important to keep your dog hydrated, and sharing public water bowls isn't the safest option (or sometimes even available!). Especially if your dog is eating a lot of treats during training, you'll want to offer water frequently.


Regular Dog Leash
I use the Ruffwear Knot-a-Leash when I'm walking a dog in a busy environment. I love the quality of this leash and have used the same one now for almost 7 years! A big selling point for me on this leash is the locking carabiner clip for attaching to a dog's harness.


Long Leash
You may be surprised to learn that I usually am walking my dogs or client dogs on a 15-foot long leash, rather than a shorter leash. I love long leashes because they allow a dog more freedom to move naturally and I'm not fighting against constant leash pulling. I use the Mendota long leash because it's soft and pliable in my hands (I'm still able to practice leash locks on the material). Long leashes take practice in how to hold and add/shorten length quickly. Learn how to choose and use a long leash here.


Carabiner Clip.
I keep a carabiner clipped to my leash handle, and it can be used in a variety of ways! Multifunctional and small — it's a great tool to have on hand. I use this most often to quickly tether my dog or to link my two dogs' leashes together when I need an extra hand. Choose a high-quality carabiner that has a weight test result — up to you if you prefer a locking carabiner or not.
Dog Safety Tools
Some of the things I list below are not necessary for most dog owners (such as bite gloves). But I work with shelter dogs with unknown histories and on dog aggression cases. If you are a behavior volunteer or staff member at a shelter, you'll want to consider what you need to add to your own gear.
I've experienced off-leash dogs approaching my dogs or my client's dog too many times to want to wander out without safety tools. As a dog trainer, I am the buffer between the world and my client and their dog. Especially when working on leash reactivity, I am always looking for and ready to intercede to maintain safe distances between the dog I am working with and other dogs.
If you live in an area where it's likely you will encounter off-leash dogs or wildlife, I recommend adding some of these tools to your kit.
But What's in a Dog Trainer's Car?
I can't carry absolutely everything I may need for a dog training session on or in my belt and treat bag. That's what my trunk is for! So the things below are what I always keep in my car.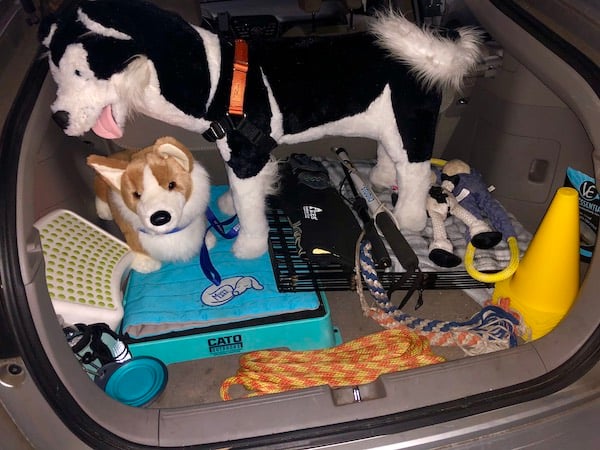 Stuffed decoy dogs. I get some funny looks while driving when people notice the large fake dogs in my backseat. I use the Melissa and Doug stuffed dogs to use for some of my leash reactivity cases as a decoy, before working around live helper dogs. Having a low-pressure setup for the handler to practice correct leash handling skills and timing on their counter conditioning is ideal before they have to practice around real, and more unpredictable, triggers. I also use fake dogs for demonstrating handling during shelter staff training or for some shelter dog evaluations.


Platforms and stools. For some dogs, having a raised platform or stool can help with focus and stationing around distractions. I love using the "perch" behavior for reactive dogs, where they put both front feet on a stool (or rock, or fallen log ... whatever may be available in the environment). I love my Cato Dog Platform because it's bright and sturdy, and excellent for practicing a distance stay with dogs. Another trainer favorite is the Klimb Platform from Blue-9.

Platforms and stools can also be used for body awareness exercises with dogs. I use this affordable step stool with a non-slip base — make sure the stool you use with your dog is not too high for their size.


Dog mat. I love my Mutt Mat for a portable and comfortable "place" for my dog to settle. This may be at a coffee shop or while out wine tasting. When taking your dog's "Go to Place" cue out and about, make sure their designated place is comfortable. (A bath mat or yoga mat cut to size works well, too!)


Flirt poles. If you haven't tried out a flirt pole with your dog, I highly recommend it! This is just a giant "cat wand" but more durable and a better length to use with a dog. Ideal for high-energy dogs and for nipping puppies, a few minutes of flirt pole play can quickly tire out your pup. I use flirt poles as needed at the start of training sessions to "take the edge off" (especially when working on leash manners) and also after the session to end with fun.


Tug and fetch toys. Some dogs find toys and play more rewarding than treats, so I keep a few different dog toys on hand to use for reinforcement or just simply to play with the dogs throughout the session. Play is a great way to gauge how comfortable a dog is in different environments and an excellent way to reduce stress. I like to have a variety of toys to choose from, as every dog has their favorite type.


Ex-pen. I keep an extra exercise pen and a light blanket to toss over it in my car in case I need a portable barrier. Sometimes I just need to visually block distractions while working with a puppy or adult dog, and other times I need to maintain space between children and a dog. I also use an ex-pen as an extra safety measure when working with dog-dog resource guarding in a home.
Build Your Own Dog Training Belt
Now that you've seen what I have on hand as a professional dog trainer, I wanted to share with you an example of another dog owner's training belt. What you carry with you when out and about with your dog depends on your individual needs and plans — but at the minimum, carry your dog's training treats or favorite toys so you can reward them for good behavior!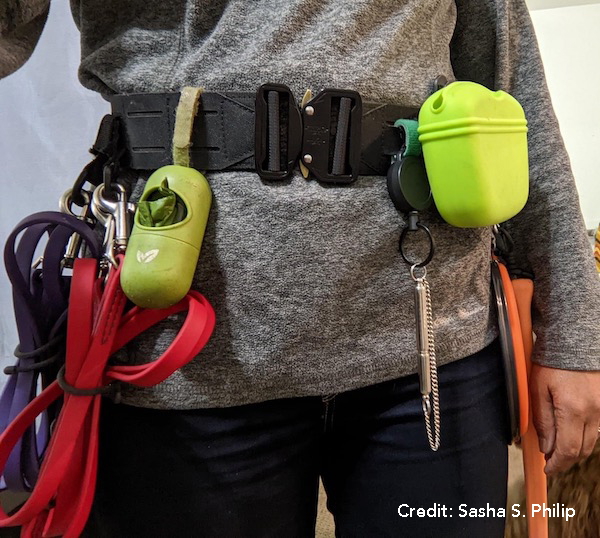 A big thank you to my neighbor and fellow dog lover, Sasha S. Philip, for sharing her photos with me of the dog training belt she created to use with her two dogs. She's prepared with her dogs' recall whistle, long leashes, fetch toy, pop-up water bowl, silicone treat pouches, and more. All while freeing up her hands!
For her needs, she was looking for a belt that was sturdy enough to handle two dogs attached to the belt on leash, as well as modular options for other supplies. She chose the Wolf Tactical Belt. I love how she placed a pack to carry a large water bottle at the small of her back, which prevents it from bouncing around as she walks.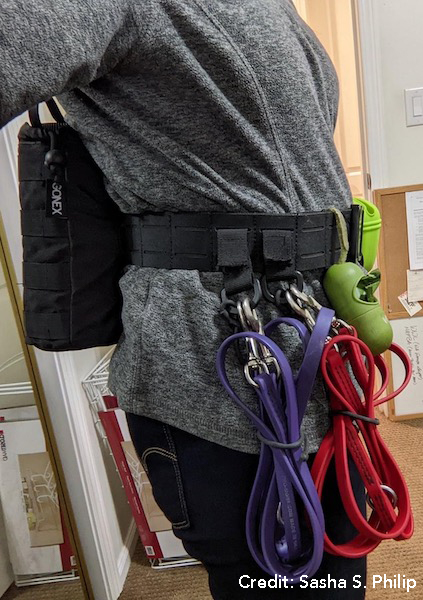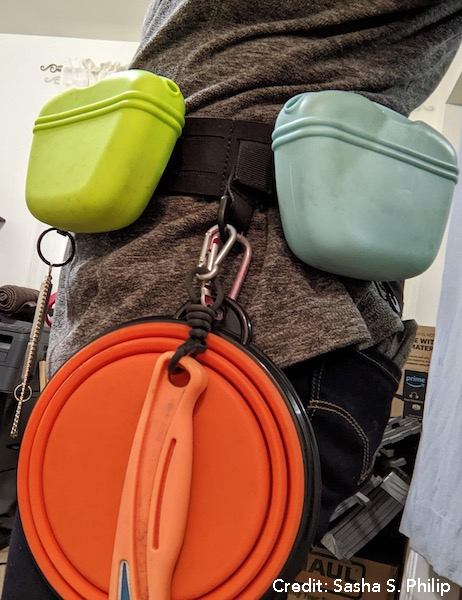 Another belt option is the Kurgo RSG Hands-Free Waist Belt, which is made specifically for walking or running with dogs but may not have enough attachment points depending on what you want to carry with you. (I use the Kurgo belt as part of a belay leash system developed by the amazing Grisha Stewart when working on BAT 2.0, but not for carrying other supplies.) You can also visit your local Army Surplus store to see what tactical belts they have in stock that you can then DIY to fit your needs.
Choose as wide of a belt as is comfortable for your body type — the thinner the strap, the more flimsy it becomes as you attach gear to it. If you plan on attaching your dog's leash to your belt and walking them hands-free, you'll especially want to ensure that the connection point is securely anchored, the belt clip is sturdy and won't pop open under pressure, and that your dog already has good leash walking manners.
Do you have your own training gear or belt setup that you want to share?
Post a comment below telling us what you use for your dogs or send us a pic here!