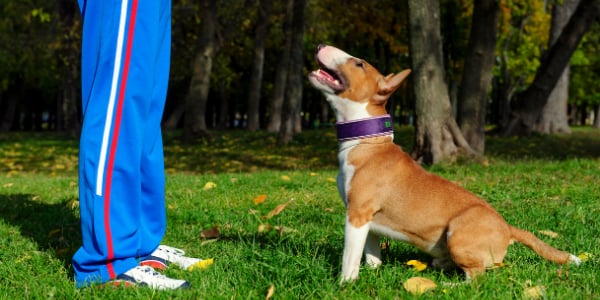 When starting to train your puppy or new dog, there are many small moments in your daily routine where you can practice their basic manners. The reinforcement you use does not always have to be food treats — food is great and easy to use, but think about switching it up every so often. You can use toys and play, or even real-life rewards!
Dog Training Ideas: Sessions in 5 Minutes or Less
At the dog park (or anywhere for that matter), reward your dog with a treat, petting, praise, or toy play any time they choose to check in with you without being asked. Practice your dog's Come cue, give them a treat, then release them back to play with their friends – the real reward here is getting more playtime!

Trainer Tip: Bringing treats to the dog park can be a recipe for being mobbed by dogs and instigating resource guarding scuffles. Consider whether your local dog park is appropriate for bringing treats along. If it's not crowded, make sure treats are in a sealed bag and kept in a chest pocket of your jacket or somewhere else that's secure. Don't give any treats to other dogs without explicit permission from their owner. If the park is too crowded, skip bringing treats and use real-life rewards or toys instead!

While watching television, any time a commercial break comes on, practice a training cue with your dog until your show comes back on. Check out this article to "Teach Your Dog Anything in 4 Easy Steps."
There are so many benefits to training, and it doesn't have to be a long, formal session. Get creative and have fun!