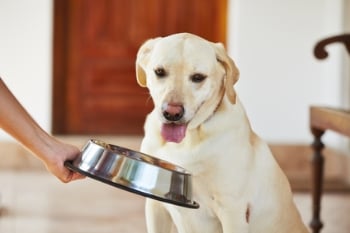 January is National Train Your Dog Month. This is an awareness month established by the Association of Professional Dog Trainers (APDT) to highlight the importance of socialization and training to the health, wellbeing, and daily life of dogs. We at Preventive Vet think this is a great idea and an important message, so here are 3 easy, every day ways to incorporate "sit" practice and reinforcement into your daily routine.


PRE-MEAL: This is a great time to practice your dog's sit, as well as their (very important) "stay" and "leave it." Not only are these good for basic obedience, but solid "stay" and "leave it" can also help to prevent digestive problems and poisonings when "off limit" foods or medications are dropped or encountered on walks.
With food bowl in hand, ask your dog to sit. (If you can work in a "sit" hand signal, you'll likely have even greater success.)
Once your dog has done the requested sit, give them praise (and a treat, if it's early days of practicing this). But don't let them eat their meal yet.
At this point, work in a "stay" and "leave it."
After a few seconds of them "leaving it," give them praise (+/- a treat) and then have them eat their meal.
You can further solidify this behavior and get even more "mileage" out of it by feeding your dog from an interactive feeder (such as the "Wobbler" by Kong, the "Dog Tornado" by Nina Ottosson, or another) that extends their training and provides them with some mental exercise during their meals.

KNOCK KNOCK: Nobody likes being greeted by an over-exuberant, jumping dog.
Help prevent it with the following tips.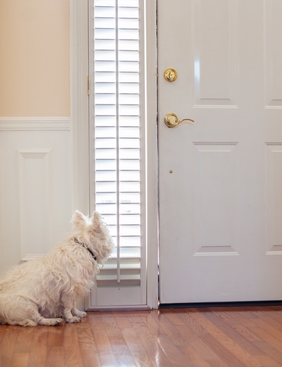 Keep an air-tight jar of training treats outside your front door. Make sure it's off the ground and well out of your dog's reach.


Each time you walk in the door at the end of the day or after running errands, grab a few treats before entering your house.


When you're greeted by your dog(s), immediately ask them to "sit." Standing still and paying them no other attention until they do.


Once they perform the requested sit, give them praise and a treat.


Now ask all other family members and any visitors to do the same. With daily practice and consistency, you'll soon have a much more pleasant (and safer) homecoming.

LOOK BOTH WAYS: We were taught this ourselves and we teach our human kids, so why not our dogs? Of course the important part here for dogs is the actual stopping and sitting at an intersection, rather than the looking. But you get the picture.


When out on your daily walk(s), take a moment and ask your dog to sit at each intersection before you cross.


Give them praise and a treat when they perform the requested sit and soon you'll have a dog that will reflexively sit each time they approach an intersection, rather than trying to tug you headlong into oncoming traffic.


It's also best to have your dog perform it a couple of feet back from the curb, rather than right next to the street. After all, you never know when someone is going to cut their turn too tight and put a tire up over the curb.


Happy Train Your Dog Month. We'd love to hear how these exercises work for you, and also if you have any additional tips that work for you that easily incorporate training into your daily routine. For more information and resources on dog training, check out our library of dog behavior & training articles and our list of pet training and behavior resources.


Please note: Unless otherwise stated, products, services, and/or companies mentioned, or links to same, are for illustration purposes only and their inclusion does not constitute an endorsement from Preventive Vet. Additionally, we are NOT compensated if you choose to buy what we feature.