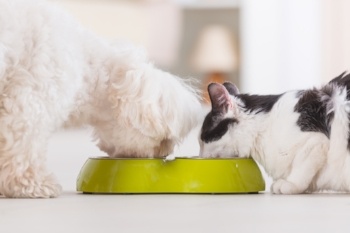 Ever run out of pet food and not know what to do?
While this seems like an obvious thing NOT to do, we've all had a close encounter of some kind, right?
I often see dogs and cats, who come in for a visit, for this very reason—because they're not feeling too well!
Ask any vet and they'll tell you that abrupt food changes are a common cause of digestive upset in both cats and dogs. Given that digestive upset (of any cause) often leads to vomiting, diarrhea, abdominal pain, and a reluctance to eat, an abrupt food change is clearly something you should aim to avoid. But sometimes you just run out of your cat's or dog's food when your vet or the pet supply store are closed and don't have any other choice… or do you?

Fortunately, given that this is a very common scenario with today's hectic lifestyles, you do indeed have other and better choices, as well as a couple of simple tricks to help prevent a "run out of food" situation in the first place.

If you run out of pet food—how to handle the situation:


FAST FOOD FOR PETS: Rather than running out and grabbing whatever pet food you can find in a pinch, just boil up some white rice (or pasta) and some white meat chicken—skin removed (or turkey, lean ground beef, or even egg whites). Mix it in a 50:50 combination and you can safely feed that to your pet for a few days until you can get their regular food.


Ask your veterinarian for a few cans of the "bland" (highly digestible, low fat, nutritionally-balanced) diet they stock and recommend. Keep these on hand for any "out-of-food emergencies."


Even when feeding a diet like those described above, it's always a good idea to gradually reintroduce their regular diet (in these instances, over the course of a day or two) to decrease the chances of digestive upset. Mix an increasing amount of their regular diet in with decreasing amounts of the "in-a-pinch" diet, until they're back on their regular diet exclusively.


Tips for NOT running out of food:


When getting a new bag of food, portion off a week's worth into a ziploc bag. Store that ziploc in the same place you normally keep your pet's food. When you have to open the ziploc bag, that's your reminder that it's time to get or order more food.


Check with your veterinarian, or wherever you get your pet's food from, to see if they have a food auto-delivery option. Some of the major pet food companies, as well as several of the veterinary online pharmacies have such options. Sign up to get regularly scheduled deliveries.


Feed your pets a food that is readily available from a good pet supply store or your vet, rather than one that's so exclusive that it can only be bought at one store in your town. This is especially important if you travel with your pets frequently, as that's a common time to run out of (or even forget) your pet's food.
Please note: Unless otherwise stated, products, services, and/or companies mentioned, or links to same, are for illustration purposes only and their inclusion does not constitute an endorsement from Preventive Vet. Additionally, we are NOT compensated if you choose to buy what we feature.