Getting Ready For Your First Puppy Training Class
Now that you've found a great puppy training class, it's time to get the supplies you'll need to be ready for the fun! The more prepared you are, the more you'll be able to focus on learning with your puppy.
Below is a list of what you'll need and some of our favorite product recommendations. Be sure to check with your dog trainer about what else you might need to bring along, or their preferences for what types of leashes, harnesses, etc.
Let's first look at some easy tips on how to set your puppy up for success in a class environment with things you can do before and after class:
What to Do Before Dog Training Class:
Make treats more meaningful: Reduce the amount of your puppy's meal before class to increase their food drive while around group class distractions.
Take the edge off: Lightly exercise your puppy before class. You don't want to exhaust them with a long walk or game of fetch beforehand — they still need some energy to learn and interact — but you do want to take the edge off a bit before class.


"Poop" 'em out: Make sure to take your puppy out for a potty break right before class begins to ensure their bladder and bowels are empty.
What to Do Right After Dog Training Class:
Potty break: Give your dog a potty break right after class ends. They've had a lot of treats and maybe drank a lot of water too.


Rest is best: Allow your puppy time to rest their brain a while. Puppy class is very stimulating, and their brain needs a chance to decompress. Let them chill out for a while after class so their brains can absorb everything they've learned.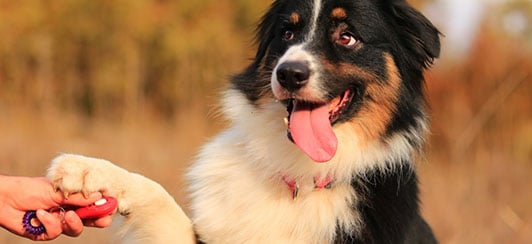 What to Bring To Puppy Class:
Vaccination records: Ensure your puppy is up-to-date on their recommended vaccine schedule to keep them healthy during playtime and training class.


Treat Pouch: Have a treat bag or pouch to store your dog's treats in – this makes giving them their reward faster and prevents your clothes from smelling like turkey! The fewer things you have to hold in your hands the better.

The best treat pouch for high-value dog training treats is the Voilà Ultimate Treat Pouch. Made of high-quality silicone, it's perfect for holding pieces of string cheese, turkey hotdogs, or fresh chicken breast. You will need the high-value treats in puppy class to keep their attention! I wear my Voilà pouch next to my regular treat pouch so that the moist treats don't intermingle with the dry treats to keep everything fresh and easy to clean.

Save 10% on a Voilà Ultimate Treat Pouch by using the coupon code PV10.

A popular treat pouch for dry treats is this one by PetSate; it has a great hinge that keeps it open when I need quick access and closes with a quick touch to prevent a puppy from snagging an extra treat.
Small treats: Stock up on training treats like these by Vital Essentials that you know your puppy will work for. Make sure they are pea-sized or smaller, so your dog doesn't have to pause too long to chew (or risk choking) and doesn't get too full, too quickly. You might even want to bring a few different flavors or kinds of treats with you to provide a variety in your dog's rewards, which increases focus around distractions. Freeze-dried raw treats are a great high-value option to use when your puppy is especially amazing.


Clicker: If you're starting a clicker training class, make sure to have your clicker handy. Keep an extra one in the car as a backup! Clickers with a wrist attachment are the easiest to use in a group class environment.
Dog Mat:

Bring along a small mat for your puppy to rest on. One of the top behaviors we practiced in my puppy classes was learning how to just chill around classroom discussions. This generalizes to being able to go to place when asked, relax while out and about (like at a coffee shop), and just be calm in a variety of places. Using the same mat in different environments helps solidify the behavior for your pup. I use and love Mutt Mats for my two dogs. Even a small bath mat with rubber backing will do!


Water bowl: Bring a portable water bowl for your pup to give them refreshment throughout class. Having a personal water bowl also helps prevent the spread of germs between puppies in class.
Fitted collar: Make sure your dog's collar is the right fit. Too tight and your dog can't breathe properly, too loose and they might slip their collar during class or get caught in other puppy's mouths during play.

A Break-Away collar is a great option for puppy playtime or a collar with an easy-to-release plastic buckle like this one by Puptek. Collars should be loose enough to fit one to two fingers between them and your dog's neck. If your class includes off-leash playtime, check with your trainer to see if you need to remove their collar before being allowed to play.
Harness: If your trainer asks that your dog is on a harness instead of a collar, make sure your puppy has been properly fitted for one and is comfortable wearing it.

My favorite harness for growing puppies is the Blue9 Balance Harness, which is highly adjustable and can grow with your puppy. If your class includes off-leash playtime, check with your trainer to see if you need to remove their harness before being allowed to play.
Leash: Find a leash that you feel comfortable holding. I've always liked using a leather leash since it's the easiest on my hands. Make sure your leash is the right size for your puppy. Most puppy classes ask owners to keep their dog on a 4- to a 6-foot leash.



AVOID retractable or chain leashes

– these are unsafe in a group class environment and hard to hold comfortably while training. Read more on why retractable leashes aren't really good anytime.
Special toy: If your puppy loves toys, bring a special tug toy to class to use as a reward. This is a toy that your pup does not have access to all the time, only when training. This makes the value of the toy higher!


Poo bags!: Make sure to have eco-friendly poop bags handy – the excitement of class can cause some puppies to have potty accidents, and you want to be able to help clean those up quickly and easily.
It's a lot of stuff, right? Don't worry — creating your own dog training belt or kit is the easiest way to keep everything together and have it handy throughout class. Learn how to make your own dog training belt here.
Last but not least, make sure to bring your positive attitude — you and your puppy will have a great time and learn a lot together!