Traveling with pets can be fun, but...
Now, more than ever, pet owners are finding it easier to bring their pets on vacation with them.
With the emergence of VRBO, Airbnb, as well as an increasing number of hotels and motels opening their doors to pets, finding a place that accepts the whole family is becoming more commonplace.
But just because the place you're staying at is labeled "pet friendly" it doesn't mean that you and your pet won't get a rude awakening.
A whole host of potential threats await...
Your pet detective! Watch your pet as soon as you enter the room. Many pets have an amazing knack for finding danger right away. As they go around and "case the joint," check and see if they've discovered any harmful items or dangerous situations.
Bedbugs: Now while bedbugs are not known to carry and transmit any diseases they certainly are a nuisance, especially for us humans. And our furry family members could be the ones that the bedbugs hitch a ride on all the way back home. Here are some tips to check for and keep bedbugs at bay. Pet tip: put their crate/bedding in the bathroom. Bedbugs are less likely to "hang out" in there.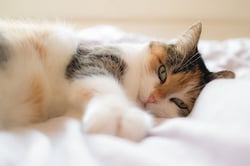 Fleas: Fleas are a common problem for traveling pets. Just because the property owner occasionally treats their place for fleas and other parasitic biters, doesn't necessarily mean your pet will be safe. After all, you have no idea who or what was staying in the room just before you checked in, and whether or not their pets were on regular and effective flea preventatives. Make sure your pet is up to date on its flea medications – including heartworm. (Remember, just because the likelihood of encountering certain parasites might be rare where you live, doesn't mean that they're not common where you're traveling to.)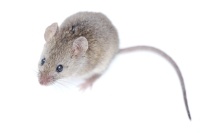 Poisons: Especially in rental homes and condo units, rat/mouse poison use may be commonplace. So when booking, ask to see if any such poisons are in use. If they are, either request their removal or find alternative accommodations.
Welcoming Gifts: If your host has left you a lovely "welcome" gift containing chocolate, make sure you secure it in a safe place (such as a refrigerator). That's one experience you do not want to share with your four-legged travel buddy.
Roaming: Your pet is in a new environment and while they're welcome, the property owner may not have pet-proofed to suit your pet's needs. If they won't be in a crate while you're away, check for dangers, like cleaning products and chemicals under the sink, exposed electrical cords, and batteries in remotes and alarm clocks. Sometimes when a pet is in a new place they behave differently than at home, so being vigilant about potential dangers is important. And don't forget their access to your luggage and snacks.
Plants: Especially in warmer climates, your pet may well encounter Sago Palms in the landscaping around the house you rent or the hotels you're staying in. As it was for this couple and their dog.

Before you travel check the online reviews
Research the place you're staying (at least from the past month – as well as from the same traveling time period from last year) to see if there are any red flags.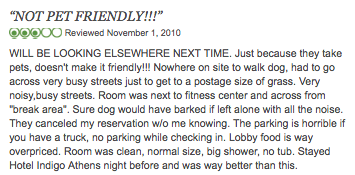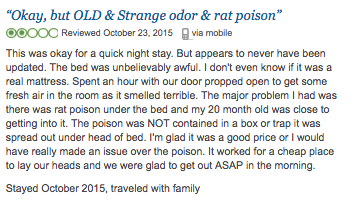 We hope these quick tips and informational resources help you and your pets better enjoy your next out-of-town getaway.
Here's some additional information about traveling with your pets:
Resources for finding a pet-friendly place while away from home: