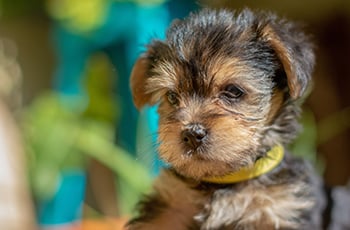 Raising a puppy is a lot of work no matter when you do it, but add in a coronavirus pandemic and there are a couple of extra things to think about.
There are pros and cons to adding a puppy to your life right now. We all would certainly benefit from the emotional boost that snuggling a puppy brings while we deal with social isolation. Extra time at home can make raising a puppy a bit easier — you'll have more time for frequent potty training breaks and to work on basic training skills. With children out of school, they can also get involved with caring for the new pup. But essential parts of puppy raising like socialization, attending group training class, and staying on track with puppy vaccinations are a bit tougher right now.
While it might not be the most ideal time for bringing home a puppy, it's not impossible to raise them into a happy and well-behaved adult. Below we've listed the biggest challenges you'll face having a puppy during this time, as well as some tips to help overcome them.
Challenges of Raising a Puppy During the Coronavirus Crisis
Puppy Socialization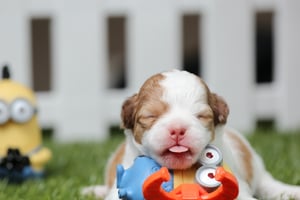 Socializing your puppy is the most important thing you can do when it comes to behavior and training, and it's critical to do this during the imprint period that lasts between approximately seven to 16 weeks of age. Studies have shown that puppies who miss out on socialization are at a higher risk of developing problems such as fear, anxiety, and even aggression. Socialization should be top of your mind if you decide to bring home a puppy right now, and you need to plan how you'll make up for missed socialization opportunities.
Unfortunately, many group puppy classes are on hold at the moment and it can be tough to expose your puppy to different things in a positive, safe, and socially-distant way. However, socialization isn't all about your puppy meeting other dogs and people — it's also about proactively exposing them to different sounds, smells, and experiences. Proper socialization is about exposure, which doesn't always require interaction.
Pro Tip: Whenever your puppy sees a person or dog in the distance, give them a treat and/or praise. Not only does this create a positive association, but it also means your puppy will be better focused on you in the future when around those distractions.
Make a virtual appointment with a certified dog trainer for an online consult. Not only will this connect you with a great resource for when you have questions about socializing your puppy while social distancing, but you'll also be supporting a small business. A trainer will be able to give you ideas for socialization while you're stuck at home and get you started on the right track with basic training and behavior. It's important to start early on preventing common puppy issues.
Breeders Keeping Puppies Longer
If you are bringing home a puppy from a breeder, check to see what their plans are for placing puppies in homes right now. Reputable breeders are committed to providing excellent socialization for their puppies, and might be better prepared to provide needed socialization. Some breeders might keep their puppies longer in order to give them a solid foundation of socialization with other dogs, and then have you take them home at an older age.
More Puppy Socialization Resources:
Staying on Schedule for Puppy Vaccinations
"The importance of the puppy vaccination series truly cannot be overstated, even during this time when people and pets are spending more time indoors," says Preventive Vet Dr. Jason Nicholas. "Because of the need to conserve personal protective equipment like gloves and masks for our frontline human medical teams, as well as the importance of social distancing to help decrease COVID infection risks for veterinary practice teams, the availability and way that veterinary care is being delivered these days is changing rapidly."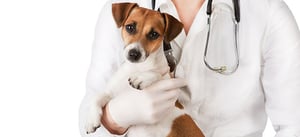 Contact your veterinarian to find out how they are providing care for their clients during this time. Many veterinary clinics are closed for non-essential services, only open on reduced hours, or doing curbside drop-offs for appointments.
"This may make it more difficult for your quarantine pup to complete their puppy shots in the most effective and timely fashion, which could increase their risk for diseases such as parvo, distemper, rabies, and others. A failure to complete the series as prescribed could cost you and your pup greatly in the long run," warns Dr. Nicholas.
Make a plan with your veterinarian to ensure that your new puppy is on track for required vaccinations to keep them safe and healthy. Learn more about puppy vaccines in "Puppy Shots — What Vaccines Your New Pup Needs (and When)." If your puppy is coming from a breeder or shelter/rescue, they may have easier access to veterinary care than the general public. Ask if they are able to keep your puppy longer than planned to ensure they get their vaccinations on time, or if they have resources you can contact for more timely veterinary care.

Preventing Separation Anxiety
A puppy that is never left alone while they're young is at a higher risk of developing separation anxiety. With everyone stuck at home right now, it's important to have a plan for teaching your puppy that being by themselves is actually pretty great! Separation anxiety is much easier to prevent than it is to treat, so it's imperative that you set your puppy up when they're young to enjoy some alone time.
Set up a puppy zone and leave your puppy there with appropriate interactive toys and chews while you work in a separate room. While leaving home isn't as easy right now, you do still need to actually leave the premises when working on separation anxiety prevention. Going on a short midday walk without your pup or taking a drive around the block are both good options.
PRO TIP: Your puppy knows when you're just in the other room or outside in the yard (their nose is a powerful thing!). Take this chance to hop in your car and find somewhere to park and read a book for a little bit. Not only is this giving your puppy some alone time to enjoy a stuffed KONG, but it's also making sure your car battery stays charged.
Here are more tips for preventing separation anxiety when you work from home.
More Separation Anxiety Resources:

Puppy Potty Training
Depending on your home setup, it might be difficult to take your puppy outside as frequently as they need while also practicing social distancing. Using puppy pee pads can be helpful, but there are some downsides to potty training with pee pads when it comes to future house training. If you don't have a fenced yard to use for potty training, read more about the pros and cons of using pads in "Pee Pad Training: Is It a Good Idea?"
PRO TIP: If you live in an apartment with a balcony or patio, consider using a potty box that uses turf or real grass (like this one from Fresh Patch). This will help your puppy learn the habit of going on the "real" thing and make transitioning to outside grass easier.
More Puppy Potty Training Resources:
While not ideal, it is possible to get a puppy during COVID-19 and raise them into a happy and well-behaved adult. With a bit of planning, communication with your veterinarian, and daily training and socialization sessions, you can set your new puppy up for success. Don't worry — you've got this!
Before Bringing Your Puppy Home
If you haven't brought your new pup home yet, but feel like you're ready and able to deal with the challenges we've laid out above, here are a few things to do first:
Make a Plan
Sit down with the whole family and plan ahead. You'll want to create some house rules for the new pup and figure out who is in charge of what. Who has the responsibility of feeding the puppy their meals? Which family member is in charge of training? Having a routine in mind before bringing your puppy home will help everyone stay on track with puppy care.
Download this free House Rules worksheet to complete together and map out a plan as a family.
Order Puppy Supplies
You'll also want to make sure you've got all the supplies you'll need for your new puppy. Online ordering has made getting pet supplies a bit easier during stay-at-home mandates, but delivery times might be longer than usual. Check out this New Puppy Shopping List that includes links for puppy supplies to help them settle in to their new home. Call your local pet supply store to see if they can take orders over the phone or online, and if you might be able to pick up your order curbside or have it delivered.
Puppy Proof Your Home
Puppy proofing your home is also important to do before your puppy walks through the front door. Follow this 10-Step Puppy Proofing Checklist as you walk through each room to make sure it's safe for your new pet.
"With all the extra time indoors and the likelihood of increased snacking, crafting, and even cleaning and laundry to pass the time and stave off cabin fever, there are actually some common household pet dangers and emergencies that can become more likely during quarantine, which a young, curious puppy might be even that much more inclined to get into," says Dr. Nicholas. Make sure everyone cleans up after themselves, whether it's homeschool projects or house remodeling materials. Having a safe and separate puppy zone for your new pup will also keep them out of trouble (and help with potty training and preventing separation anxiety).
Plan for Puppy Training
Plan to spend time every day working on basic training with your puppy. This is a great time to have the kids get involved. The best training is done in short and sweet training sessions spread throughout the day. Remember, your puppy is always learning!
Not sure where to start with training cues? Start with these 6 behavior skills that will keep your puppy safe.
Many dog trainers offer virtual training sessions, and this is a great way to support small businesses during a really tough time. Connect with a certified dog trainer in your area to create a training plan that's tailored to your puppy and lifestyle.
More Puppy Training Resources:
Have you welcomed a puppy into your life during the coronavirus pandemic? Tell us about your experience in the comments below!