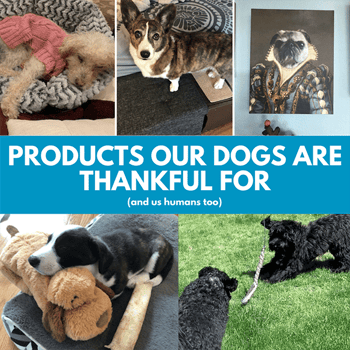 Let's be honest, the year 2020 has not quite lived up to the expectations we had when it started. Also true is that our dogs have been the ones holding everything together.
Our dogs give us the opportunity to leave the house for an unreasonable amount of socially-distanced walks, make video conference calls better for everyone by randomly appearing on-screen, and are serious troopers dealing with stressed-out humans.
With Thanksgiving just around the corner, the Preventive Vet team started thinking about what we're most thankful for when it comes to caring for our pets this year. What products and activities have made it easier for us? What do our dogs seem to love the most? Read on for the things that we've found most useful, entertaining, and comforting for our dogs and us.
What Our Senior Dogs Are Thankful For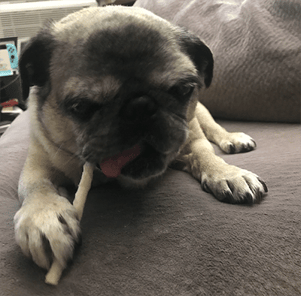 Easy-to-Digest Dog Chews
Mia, the host of our Paws & Play Podcast, adopted Mabel the Pug last year at 10-years-young. Mabel had just had a bunch of rotten teeth pulled. Mia wasn't sure what Mabel had enjoyed in her previous home and what, if anything, she'd be able to chew.
After trying everything from bully sticks to Greenies, the one thing that has consistently gotten her undivided attention are the Earth Animal No-Hide Chews. The noises she makes while chewing these should probably be used in sci-fi films, and her little muppet hands curl around them to hold in place, making it a real joy to watch. You can find Earth Animal No-Hide Chews on Amazon.
Pro Tip from Mia: Make sure to put a towel under the chew, so you don't get shmutz on your couch like we did. It's important always to monitor your pup when they're enjoying one of these as they could be a choking hazard.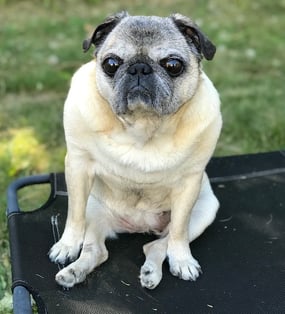 Cooling Dog Cot
Mia's family was incredibly grateful to have a yard to retreat to through COVID-19 spring, summer, and now fall. In fact, they probably spent more time outside than in, and while the humans were doing yard work or trying to make friends with the crows, Mabel spent a lot of time taking naps or sitting up watching them from the comfort of her cooling cot.
The Birdrock Home elevated cot is the third brand of cot Mia has purchased and was an automatic favorite because it's easy to set up, fold, and store. The ones requiring assembly were hard to put together and ended up breaking (either out of frustration or because the pieces truly didn't fit together correctly). Mabel has arthritis and Pug myelopathy, making it difficult to move around, but she doesn't have any issues hopping up or down from her cot.
Pet Stairs
Cathy, Preventive Vet's certified dog trainer, shares her life with Sookie, a 10-year-old Cardigan Corgi. Sookie isn't a big cuddler, but she does want to be quasi-close to her humans on the couch or the bed. But her jumping up onto the furniture has gotten more difficult, so Cathy purchased the Pet Gear Easy Step II Pet Stairs for her to hop up much easier. Plus, instead of jumping off and putting pressure on her shoulders, legs, and back, she now just walks down the stairs, helping Cathy feel a lot better about her senior dog joints.
Since the couch is the safe "no-play" zone and her escape from the new puppy's crazy, Sookie certainly has appreciated the easier access. The stairs were easy to put together and are lightweight but sturdy enough for a 30-lb. Corgi. You can find these dog stairs on Chewy and Amazon.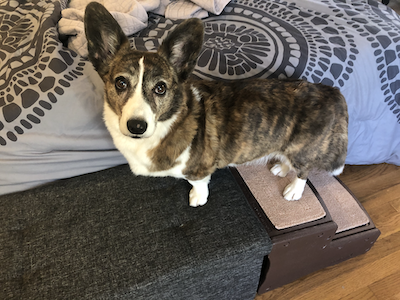 Cozy Dog Sweaters
Preventive Vet team members Anne and Jeff care for little Daisy, an almost 18-year-old Toy Poodle (seen below wearing it in her strength-building physical therapy session). Because she's very frail, she needs a "coat" to keep her warm all year long. While she has a few, this one is her favorite.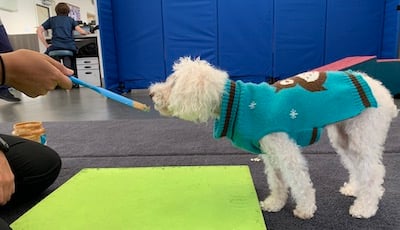 Daisy weighs just eight pounds, and Anne ordered the medium – while it's a tiny bit big on her, it makes it super easy to put on, and she likes the extra coverage across her back. She's had this sweater for two years, and it's held up to a lot of machine washing and drying.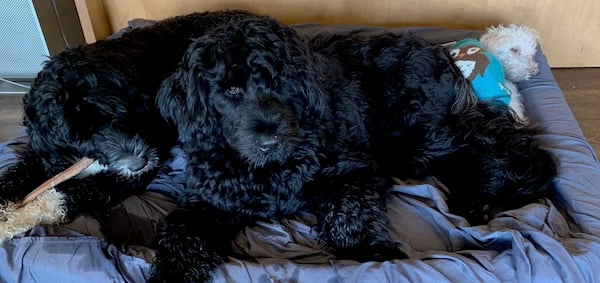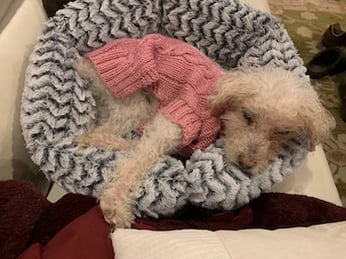 Memory Foam Dog Bed
Anne and Jeff also have a large memory foam bed (seen above) for their Portuguese Water Dogs, and little Daisy loves it. But it's not practical for when they want her to snuggle on the couch with them. Her body is pretty bony — no matter how much she eats — so the orthopedic memory foam really supports her little body.
They also noticed she loved using the lip of our large dogs' bed as a pillow, so they were searching for a small memory foam bed with the same features.
It was hard to find a small memory foam bed for pets, but this one by Pet Craft Supply Co. was given to them to try out. Daisy absolutely loves it, and it fits perfectly on the couch and their laps. It's very small, so perfect for a small-breed dog or a cat.
What Our Puppies Are Thankful For
Interactive Food Toys
Cathy's new puppy Fozzie Bear has yet to eat a meal out of a regular food bowl. Instead, he's been using the West Paw Toppl as his main feeder. Cathy loves this interactive toy because it has a large opening for him to get to his food, meaning less frustration on his part and easier stuffing and cleaning for her. It's super versatile — you can pop the small size into the larger size to create a perfect dry food dispenser, or just stuff one with kibble and wet food and freeze to make a long-lasting pupsicle. Perfect for practicing alone time in the crate.
Whenever Cathy takes Fozzie to the veterinarian, his stuffed and frozen Toppl comes along. This way the veterinary staff has an easy (and cleaner) way to reward him and create positive associations. Her vet even commented that the Toppl is her favorite stuffable toy for her pup! The West Paw Toppl is available on Chewy and Amazon.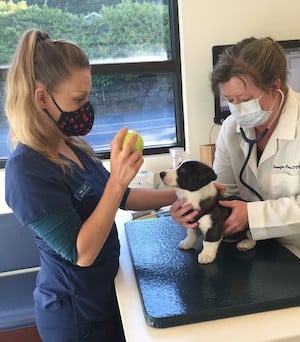 Snuggle Puppy
When Cathy first brought Fozzie Bear home when he was eight-weeks-old, the Snuggle Puppy was a lifesaver for helping him sleep longer through the night. Having the warm "littermate" with a heartbeat close to him in his crate helped soothe and comfort him during his transition. Whenever Cathy checked on him, he was snuggled up close to it.
As he's gotten older, she doesn't use the heartbeat pack anymore, but Fozzie still uses it as his pillow and will carry it around the house. Even Cathy's senior dog likes it as a chin rest! She recommends this to all of her training clients with new puppies. It's such an easy way to provide some comfort when a puppy is settling into a new home. You can find the Snuggle Puppy on Chewy and Amazon.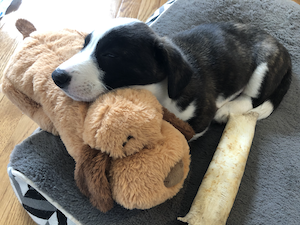 What Our Young Dogs Are Thankful For
Anne and Jeff's two younger Portuguese Water Dogs — Clover, two-years-old & Finnegan, nine-months-old — have a lot of energy to burn off on a daily basis. If you're not a jogger or don't have easy access to safe off-leash areas for your dogs to run, expelling this physical energy can be challenging. A flirt pole can be a great solution.
Be sure to let them "win" enough times to keep it fun! Another good exercise to do using the flirt pole is to practice their "Drop it" skills, so have some treats handy. As an alternative to physical exercise, mental enrichment can also really tucker them out. For more about that, read Dog Enrichment: Toys, Games, and DIY Ideas.
Flirt Pole Play with Puppies: Be careful with dogs under two-years-old to not stress their still-growing bones and joints by running too fast around a circular motion or stopping and changing directions quickly. Keep flirt pole sessions short and aim to keep your puppy's movements slower without sharp turns or sudden stops.
What We Humans Are Thankful For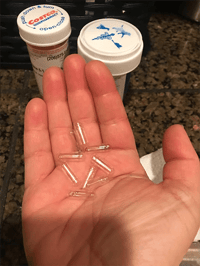 Gel Capsule Covers
Mabel the Pug loves treats, but she can smell a hidden pill from ten miles away. In the words of Hall and Oates, she "... won't go for that." Mia tried every type of pill pocket, peanut butter, wet food, cheese — nothing worked ... until she tried hiding her pills in a gel capsule cover.
These babies are a real MVP in Mia's household and can be found online, or you might be able to find them at your local wellness shop.
Pro Tip from Mia: Sometimes we have to wash our hands before we give her the pill pocket. Otherwise she can still smell the residue from the tablet, and we're back to Hall and Oates.
Pet Portraits
This year has been a particularly tough time for Mia's family, as they had to help Mia's best friend and soul dog, Marshall, cross the rainbow bridge at the end of May. Mia's wife had bought her a personalized pet portrait of Marshall for Mother's Day, and it is one of the best gifts she's ever gotten. It captures Marshall so well and fills the room with his spirit — it has really brought Mia a lot of comfort. There are many different companies that offer this type of service, but Mia got all three of hers from Crown & Paw and couldn't be happier.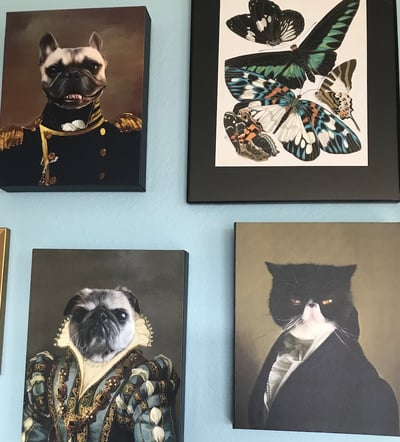 Pet Camera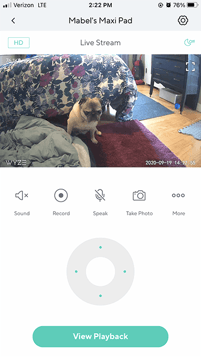 Mia originally bought the Wyze Cam Pan wi-fi indoor security camera to spy on Mabel and Marshall to monitor their separation anxiety. Mabel may not have full use of her back legs, but this little spitfire was able to push down a baby gate when she wasn't too happy about the humans leaving.
Thankfully, Mia has worked on her separation anxiety, and these days when she checks in on her, instead of howling, she's curled up in her bed or sitting up watching Home Improvement reruns.
Mia hasn't tried other cameras to compare but feels like it was a really great deal. It was easy to set up with wi-fi, the camera can pan the room and is controlled from an app on your phone, you can speak through it, it can record events when motion is detected, and most of all, it gives Mia peace of mind when she's out of the house and can check-in.
The Wyze Cam is available on Chewy and Amazon.
Hyper Pet IQ Treat Mats
When Cathy just needs a few minutes of calm and quiet from her dogs but doesn't want to overfeed them with a bigger meal, she turns to her trusty IQ Treat Mats from Hyper Pet. These mats are great for a light snack — just spread a light layer of some peanut butter, wet food, greek yogurt, or canned pumpkin on each section of the mat, and the dogs are content to lick quietly. When not frozen, these last Cathy's dogs about 10 to 15 minutes. If she wants a longer activity for them or it's a hot day, she freezes them and they last almost twice as long. Licking is a calming behavior for dogs, and after they've licked their mats clean, they're always ready for a snooze. You can throw these in the dishwasher, which makes clean up a breeze.



Nesco Food Dehydrator
Dog treats can be expensive and almost always contain a lot of unwanted preservatives. A healthier alternative is to make your own dog treats, and Jeff loves to whip up a batch of homemade goodies for his three dogs. His preferred protein for dehydrated dog treats is beef because it is the safest from a bacterial perspective.
And, when a lean cut of beef goes on sale, you can often buy it for under $3.50 per pound. Compare that to the price of dog treats and the savings are substantial.
Pro Tip: Be sure to trim off excess fat before you dehydrate your beef strips so they don't spoil as quickly.
Jeff dries strips of beef in this food dehydrator for 6–8 hours at 145F and then transfers them to a cookie sheet. Then he places the cookie sheet into a preheated oven at 425–450F for an 8 to 12-minute blast. This will help to ensure that all bacteria are eliminated.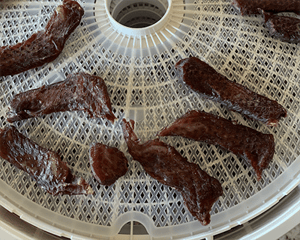 After the treats have cooled, you can cut them into smaller pieces for 'more treats' with fewer calories per treat.
For storage, remember that even though you've removed bacteria, you're not using preservatives — so store some of what you've made in the freezer. The treats that you plan on using should be kept in the fridge while not in use. They should last up to a week in the fridge and a few months in the freezer. Your dog will go cuckoo for these all-natural treats!
Pro Tip: Wrap the beef in a paper towel within each Ziploc bag to soak up any humidity or moisture that may develop. If you really want to get serious, get a food vacuum sealer. You can also use it for human food, obviously 😊

Just Food For Dogs: Fish & Sweet Potato
Daisy has suffered from food allergies from the day Anne and Jeff rescued her over eight years ago. They've eliminated every protein possible to get to the root of it and tried many prescription diets. The only one that seemed to help her allergic reactions (mostly acid reflux and regurgitation) was Purina's ProPlan Veterinary Diet: HA Hydrolyzed Vegetable Formula. Her symptoms were reduced when she ate it — but she didn't want to eat it! Anne couldn't add flavoring, as Daisy is allergic to everything (but they're not 100% sure what), so she was simply withering away. She barely ate for years!! It was so upsetting.

Anne decided to try making Daisy's food and liked that Just Food For Dogs provides recipes and the vitamins and nutrients that you can buy to ensure the diet is fully balanced. Daisy loves this food! The second it's put down, she devours it. She's gained her strength back, although she doesn't seem to put on much weight, likely due to various health issues. But it's so gratifying for Anne to see Daisy eat, and it's certainly made her stronger. There's no better feeling than to see her eat again.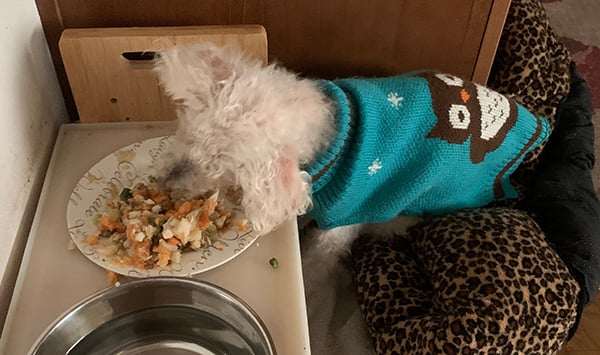 Daisy loves this fish and sweet potato recipe. You can find the Nutrient Blend and ingredient information here, and it's also available on Amazon.

Anne also keeps a few pre-made (store-bought) frozen packages of her food for the times where they run out before they can make it again from scratch.
We want to hear what pet products you've been thankful for this year. Share with us your top picks in the comments below!