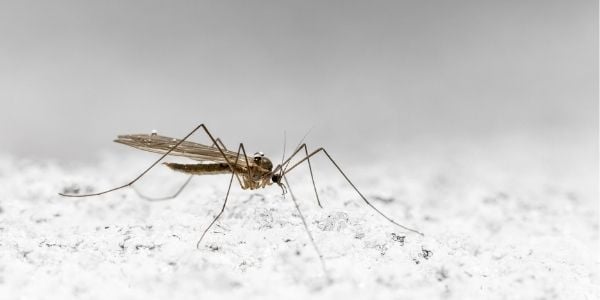 When mosquitoes thrive so does heartworm disease!
Did you know that mosquitoes thrive in the warm periods following rain and when there's any standing water in your yard (birdbaths, pools, empty pots, etc.)? And did you know that a mosquito can develop from egg to adult mosquito in as little as 4 days!
While this is bad for people (West Nile virus, Zika disease, etc., not to mention the nuisance they pose), it's also particularly bad for your cats and dogs because mosquitoes carry and spread heartworm disease! Yes, you read that right… cats get and suffer from heartworm disease, too! And it's even more difficult to treat in cats than dogs.) Are your pets protected?
Heartworm disease is a debilitating and potentially fatal condition where parasitic worms take up residence and grow within the heart, lungs, and major blood vessels of cats and dogs. As the worms grow and multiply, the organs they live in become damaged and blocked… think hair clogging your drain or construction on the road heading to the beach on Memorial Day weekend. Just as the former is no good for the plumbing in your home, and the latter is no good for your stress level and blood pressure, the presence of heartworms within your pet's heart, lungs, and/or blood vessels is definitely no good for their quality or length of life!
Cats and dogs become infected with heartworms when the larvae (baby worms) are injected as an infected mosquito bites and feeds on them — and one bite, by one infected mosquito is all it takes.
There is only one way to get heartworm disease – through a mosquito bite!
Every three years the American Heartworm Society gathers data from veterinary clinics across the U.S. and releases incident maps. You can see the charts and the comparisons over time on their website.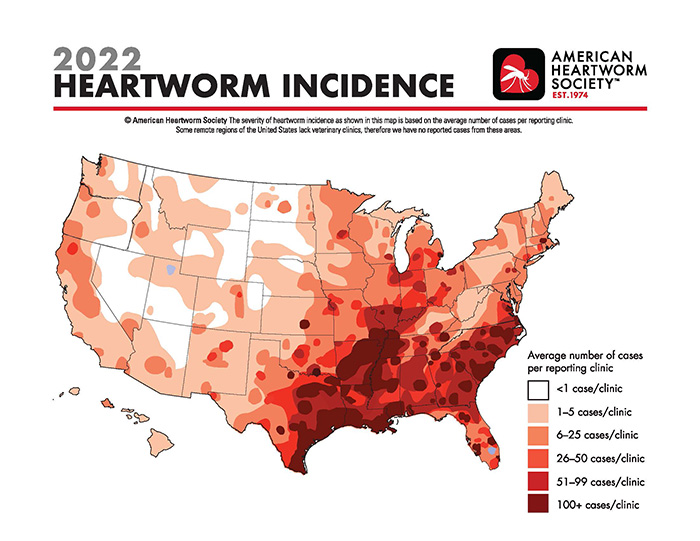 Sadly, the "conventional wisdom" that heartworm disease is only a concern during the warmer months of the year has proven to be wrong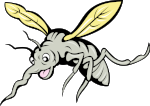 Mosquitoes continue to adapt to and thrive in cooler climates and sometimes even survive throughout the winter in homes! And unfortunately, another consequence of climate change is that mosquito populations are growing and spreading in their distribution.
PREVENTION is key!
Take steps around your home to control mosquitoes


Use effective heartworm preventatives all year long (t

here are lots of safe and effective heartworm preventatives for dogs and cats – see list below.

)



Since infected cats and dogs serve as "reservoir hosts" (meaning that a mosquito will itself become infected when they bite them, therefore making that mosquito capable of spreading the worms from that cat/dog to yours), it's also a good idea to encourage all of your pet-owning friends and neighbors to get and keep all of their pets on effective heartworm preventatives throughout the year, too. We're all in this together!
Speak to your veterinarian before choosing a heartworm preventative
Just be sure to talk to your veterinarian first before choosing and starting your pet on a preventative, as not all products are appropriate for all sizes, ages, or breeds of cats or dogs, and, depending on your pet's age and how long they've been off heartworm preventatives, it may be recommended to do a quick blood test to check for the presence of heartworms first, before (re)starting a preventative. These are also the reasons why these medications are prescription-only meds.
The added bonus in some heartworm preventative products
Many preventatives also help control intestinal worms and several also help to control fleas, too! That's lots of good "parasite-busting bang" for your buck!
Check the Companion Animal Parasite Council for their quick product reference guide.
Heartworm disease is a debilitating and potentially fatal condition
Proving the old adages about Prevention Being The Best Medicine and An Ounce of Prevention Being Worth a Pound of Cure (both of which we at PREVENTIVE Vet couldn't agree more with, obviously)… Did you know that though there are treatment options for heartworm Disease in both cats and dogs, these treatments can be time-consuming and logistically difficult, they're expensive, and they can actually cause death themselves. Yikes and yikes — right! Please, practice prevention, and practice it year around. It really is better… for everyone.