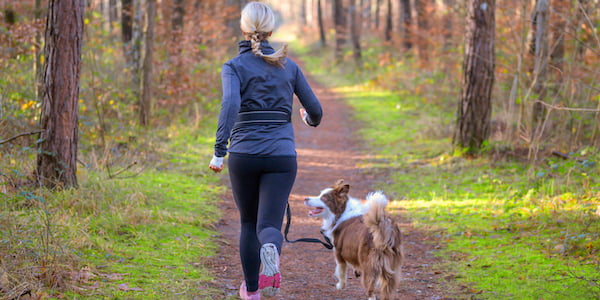 There are some training foundations that will help your pup be a great running partner. These training skills will help make running easier for both of you and increase safety.
Teaching your dog to run in a consistent position and not switch sides without being asked goes a long way in preventing trips and falls! Being able to tell them when to change directions, start, slow down, and then automatically stop and sit when you stop running, are perfect to make your run smooth and easy. The last thing you want is to be yanked around (or yank around) your dog on a run. It should be fun for both of you!
Before you dive into training skills for running with your dog, is your dog up for it? Check out When You Can Start Running with Your Dog to find out if your dog is ready.
Training Your Dog to Run With You
Train Your Dog to Heel While Running Next to You
A good running heel will keep your dog by your side for the duration of your run. Some runners prefer their dogs to be a bit ahead or a bit behind them. Choose the heel position that's most comfortable for you. And there's a bonus — perfecting a running heel can actually help your dog's walking heel. Dogs naturally walk faster than people, so keeping a faster pace can make it easier for a dog to keep their leash loose.
You should be waiting for your dog to finish growing before you start running with them, but you can still work on the running heel by practicing a walking or short-distance jogging heel. Your dog will be ready to run by your side as soon as they're old enough!
Play this Off-Leash Heel Game to Build Up Your Dog's Running Heel
You can play this game indoors in a larger, open room or outdoors in a securely fenced area.
Have some high-value training treats and your clicker (or marker word) ready.
Start walking quickly around the space, randomly switching directions, speeding up, and slowing down.
Don't worry about trying to get your dog to follow you. It might take them a minute to get some sniffs out before they start to wonder what it is you're doing.
Any time that they happen to hit the correct "heel" position that you want them to run in, click (or say "yes!") and give them the treat.
Stay moving the entire time!
This game is teaching your dog that it's awesome to get into the heel position, and good things keep happening there! Plus, it's less work on your part — all you have to do is capture the right position with the click and treat.
Watch Patricia McConnell demonstrate this off-leash heel exercise in this video:

Teach Your Dog to Automatically Stop and Sit
The automatic stop-sit cue is great to teach a dog, especially if you're running in a suburban or urban environment with traffic lights and crosswalks. When you are waiting to cross the street, your dog can be trained to sit automatically whenever you stop moving. This helps to ensure their safety around busy streets. Learn how to train the automatic sit.
Here's a video example of what a trained automatic sit looks like:

Teach Your Dog to Speed Up, Slow Down, and Change Directions
You may want to develop verbal cues that tell your dog if you want them to speed up, slow down, or which way you'd like them to turn. This is especially helpful if your dog likes to lead the way on your run. You can introduce these cues ("slow," "speed up," "right," or "left") while out on a run. It can help to be very dramatic, like slowing to a walk or speeding up to a sprint, when first introducing these cues.
Start with your dog on their leash outside. Have your training treats and clicker (or marker word) ready.

Practice at just a walking speed first.

Start walking in one direction, and then turn in the other direction dramatically.

As you turn, say "Left!" (if you're going left) and encourage your dog to follow you. As they do, click and treat!

Mix up which direction you're turning, name the direction for your dog, and reward for when they turn that direction with you.

For speed changes, just before you change speed, say the verbal cue, then click and reward for your dog slowing down or speeding up with you. Be as dramatic as you need to get your pup to speed up and match your pace.

Add in different directional or speed cues, making sure to give each one a name (cue) for your dog, clicking and rewarding when they get it right.
Get Involved in Canicross
If you and your dog love running together, consider getting started in the dog sport of Canicross. This sport started as off-season training for sled dogs and has become quite popular around the world. Canicross is cross-country running with your dog attached to a webbed harness clipped around your waist. Check out how to get started in Canicross here.
You're now ready to introduce your pup to running! Do you have other things that helped your dog be a good running partner? Let us know in the comments!