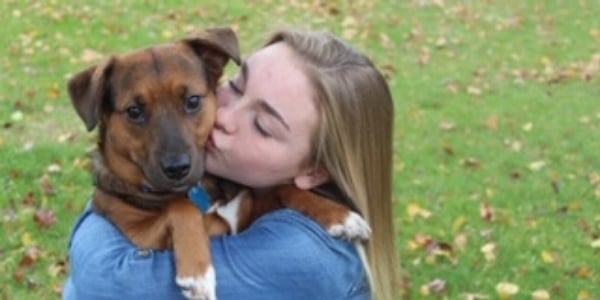 The evening of December 4, 2018 was unfolding like any other. Kristi Blust did the usual quick basketball practice drop-off run with her daughter after work, taking the typical 10 minutes or so.
She returned home to start making dinner for her family, just like the night before. That's where the similarities stop though. Sadly, that evening wasn't going to be just like any other evening for Kristi and her family.
The first thing she noticed when she came back into the house that evening was the pee and poop everywhere! Then she saw Milo, the family's 3-year-old shepherd/beagle mix. He was lying motionless on the floor, his head covered by the bag of Ruffles potato chips that had been left on the coffee table.
Milo was completely unresponsive and barely breathing! Thankfully, though she now works in nursing administration, Kristi previously honed her skills as a critical care nurse. And her critical care nursing skills and instincts kicked right back in! (Once a critical care nurse ... ALWAYS a critical care nurse!)
"I knew exactly what to do ... just never thought I'd have to do it on my sweet dog." – Kristi
She ran to Milo, removed the bag from his head, did a finger sweep to ensure that his airway was clear (thankfully she didn't get bitten … please be careful doing this on dogs!), and began rescue breathing. After 10 minutes that seemed like an eternity, Milo began breathing again on his own. He was very unsteady on his feet when he eventually got up, walking mostly sideways. Thankfully, a week out and Milo is back to his normal self … mostly.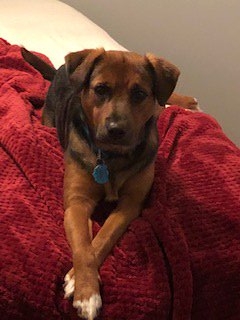 Kristi reports that Milo appears to be suffering from some hearing loss. To my knowledge, hearing loss hasn't been specifically reported as a side-effect for dogs suffering from near suffocation. But then, near-suffocation in dogs hasn't been extensively studied, and actually documenting hearing loss requires a specific, specialized test (the BAER test, more about this below).
That said, hearing loss is a known side-effect of other conditions that cause hypoxia (low oxygen levels reaching the different tissues and organs of the body) as near-suffocation does, such as near-drowning, choking, prolonged anesthesia (without appropriate monitoring and cardiovascular support), and others.
Hearing loss secondary to hypoxia is usually believed to be due to damage of the cochlea in either or both ears (see dog ear structures and function). This type of hearing loss can either be temporary or permanent. The only true way to test the hearing ability of a dog though is through the use of what's called the Brainstem Auditory Evoked Response test, or BAER test.
This is the same test that's used to check hearing in newborn babies. The BAER test is relatively specialized, and so not available in every veterinary practice. Typically it's administered at a veterinary neurologist's office, but some other specialty practices and most veterinary hospitals at the veterinary colleges also have the capabilities and expertise to administer the BAER test. Here's a short video explaining the BAER test, including what it's testing and how it's administered:
"Each minute we have with him, we feel blessed that he is alive."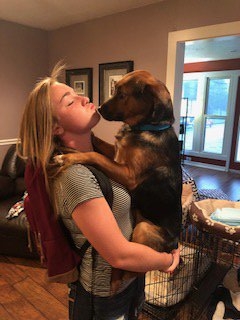 Kristi contacted her regular veterinarian immediately after it happened, and discussed Milo's experience with them. Since Milo seemed to be mostly recovered and acting mostly normal at that point, she was advised to continue monitoring him closely at home and what to watch for that would warrant an emergency trip in (lack of continued improvement, trouble breathing, continued or progressive staggering, lack of energy or appetite, vomiting, or signs of vision compromise or brain damage [e.g., bumping into things, staring into space, pressing head into corners, vocalizing).
Thankfully, Milo didn't show any of those concerning signs that night, or since. In fact, aside from the apparent hearing loss, Milo doesn't appear to have any other effects of his trauma with the chip bag, so hopefully, he will eventually fully recover his hearing and be left with no lasting physical effects from his terrifying brush with death. And hopefully, Milo's story will help you and others avoid the same traumatic experience with your own pets.
Please join us in thanking Kristi and her family for sharing their story; in doing so, they're helping to raise much-needed awareness of the dangers and reality (and frequency) of pet suffocation.
Deaf Dog Training
If you've got a deaf dog, or your dog ever loses their hearing, from any cause, teaching hand signal cues will be that much more important to keep them safe and help them keep up with ongoing communication and training. Deaf Dogs Rock is a fantastic resource for owners of deaf dogs. They've got great resources, and Deaf Dogs of Oregon has a few simple videos on training basic hand signals to dogs.
Help create more pet suffocation awareness
Provide valuable data by filling out our survey, just like Kristi did!
You don't have to have a pet that's suffered from suffocation to provide data to help in our education and awareness campaigns. We provide all of this awareness at no cost, so helping in any way you can is most appreciated! Complete pet suffocation survey here. It's anonymous and will take 2 minutes or less.
Share your pet suffocation story
We hope you don't experience the pain and suffering that many families have experienced, but if you have and are able to share your story, please do. This tragedy happens to both dogs and cats.
National Pet Suffocation Awareness Week
While we provide pet suffocation prevention education and much-needed awareness all year long, we've dedicated one week in November each year to this important cause.
The only way to prevent this tragedy from happening is to be aware of it ... and to help ensure that others are aware of it, too! So please share!!
*Additional video on doing full CPR for a dog