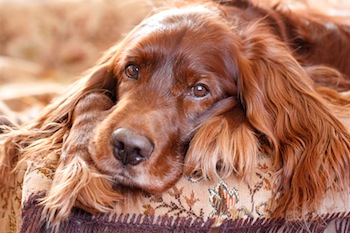 If you've read my other articles on GDV/Bloat in dogs – Understanding Bloat, Is My Dog at Risk of Bloat?, and Signs of GDV/Bloat in Dogs – you might be wondering if there is anything you can do at home? Sadly, the answer truly is… not really and, certainly, not reliably.

If you suspect GDV/Bloat, your dog needs to be brought for IMMEDIATE veterinary evaluation. Some people talk about giving certain over-the-counter medications to your dog in the earlier stages of GDV/Bloat, but honestly, doing so can make matters worse and the time it takes to do so may just be the difference between your dog living and dying. So, unless you are very familiar with this condition, and your veterinarian has instructed you otherwise, don't bother with any over-the-counter medications at home… just proceed directly to professional veterinary evaluation and treatment.

Even if you're concerned about the costs of appropriately treating a case of GDV/Bloat (more info on that in a minute), your dog should still be brought to the vet if you suspect this condition. If confirmed, and appropriate treatment cannot be authorized - for financial or other reasons - your suffering dog can be humanely euthanized at the vet's office, rather than left to languish and suffer the miserable death of GDV/Bloat. Please, don't trifle with this condition. Your dog deserves better.

Tips for Dealing with Bloat:
If your dog has a bloated stomach and is pacing or trying to vomit unsuccessfully, IMMEDIATELY bring your dog to the vet. While this may not be a life-threatening case of GDV/Bloat, these are always a serious combination of signs. If your regular veterinarian isn't open, please seek immediate veterinary attention at an Animal ER (Find an Animal ER). After your dog has been professionally evaluated and is in more stable condition come back here to learn more.
Know where your closest Animal ER is located, and know how to get there.
Dogs with GDV can be saved, but prompt recognition and appropriate treatment are imperative.
If you cannot afford treatment, you should still bring your dog immediately to the vet to avoid unnecessary suffering.
There is no safe and effective "at home" treatment for GDV in dogs.


What you should be prepared to do on your way to the vet hospital
If it won't unnecessarily delay your arrival at the hospital, be sure to call your vet, or whatever emergency hospital you are planning to go to, while you are on your way. By making them aware of your impending arrival, you allow them to do some advanced preparation (and possible schedule reorganization) to more promptly provide your dog with the necessary evaluation and care. They can also let you know if they are ill-prepared to deal with your emergency at that time and, hopefully, direct you to another local hospital for more immediate care.

While the second statement above may sound like a strange thing, if your regular vet is backed up with appointments and short-staffed on a busy Saturday they may (and should) direct you to the nearest emergency hospital for care. Similarly, if the Animal ER you normally go to is overrun and has their only doctor in surgery or dealing with another critical case, then they too may be able to (and should) direct you to one of the other local hospitals so that your pet can receive care in a more timely manner.

You should also start to have a frank and honest discussion in your head, or with the other family members in the car, about your goals for your pet's condition. It is also important to discuss what your time, emotional, and financial resources are, and if they will allow you to realize those goals. I know this sounds crass and cold, so I'll apologize now, but I would be misleading you and not helping if I didn't tell you that this truly is "gut check" time. Such an exploration and discussion is truly in your dog's best interest - as well as yours. You should start getting a sense of "how far you are willing to go." Sadly, though understandably, for many people, this often translates into how much money they are willing or able to spend. I know this is sad and that it sucks - but it is the reality. GDV/Bloat isn't just medically devastating, it can also be emotionally and financially devastating, as well. So, it truly is best for you, and for your dog, to at least be thinking about these factors before you arrive at the hospital. Things are going to move very fast once you get there and you'll be asked to make major decisions quickly.

Of course, you can take the financial aspect of that decision out of the equation by having your pet covered by a good pet insurance policy. Just make sure that they are covered beforehand, and be sure to do your research to ensure that you're choosing the right company and policy for your pet. For more information on pet insurance and other means of "financial preparedness" see our articles and resources on those subjects.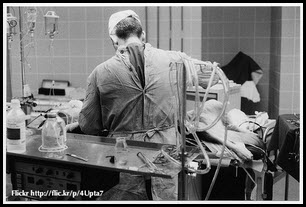 What you should be prepared for once you arrive at the vet hospital
Any dog that is presented to the hospital with a known or suspected case of GDV/Bloat will be rushed to the treatment area for immediate evaluation, initial diagnostics, and stabilizing care. This initial level of care is crucially important. It gives the attending medical team an opportunity to assess your dog's condition, begin lifesaving stabilizing treatments, and start to gather answers to the questions that you will, no doubt, be asking of them. As emotionally-charged and scary a situation as this will be for you, do not do anything that delays your dog's initial evaluation and stabilization. Time truly is of the essence with this emergency, let the medical team get to work on their job of stabilizing and saving your dog.

One thing that often further upsets and confuses owners of dogs suffering from GDV/Bloat is when they learn that they will not be able to accompany their dog back to the treatment area. You should know, in advance, that this is for a number of very good reasons. A primary reason is that the medical team attempting to save your dog's life needs unobstructed access to your dog. They also need to keep, what will already be a very busy environment, as quiet and calm as possible. Please, do not argue this point with the technician who comes up to triage and receive your dog. Doing so will only delay your dog's care, which will, in turn, worsen their chances for survival and further increase your stress level. As hard as focusing will be, you should take this opportunity to complete the paperwork that will be necessary to gather history and continue care. A technician and/or doctor will come out shortly after presentation to provide an initial update and answer questions. Though it may feel like an eternity waiting for that initial update to come, it's often only a matter of 15-20 minutes.

Initial assessment and diagnostics will include a focused evaluation of your dog's vital body systems. Particular focus will be on the cardiovascular (or circulatory) system, as many patients present already in a true state of physiologic shock. Once the vital body systems are stabilized, and if you authorize continued care, further diagnostics will be pursued. This will include X-rays (radiographs), the definitive means of diagnosing a true GDV. Preliminary diagnostics, including blood pressure measurements, EKG traces, and preliminary blood testing will likely have occurred as part of the initial evaluation and stabilization.

Only one X-ray view of your dog's abdomen is usually necessary to confirm or rule-out GDV. However, it will typically be recommended that additional X-rays be taken, including of your dog's chest, prior to going to surgery to fix the GDV/Bloat. These additional X-ray views are important for ruling-out the presence of cancerous tumors, aspiration pneumonia, or certain other complicating conditions in your dog prior to undertaking involved and expensive surgery. The findings of these additional tests can often be a critical decision-making point for many pet owners. So make sure that they are done, or at least considered, and be sure to thoroughly discuss the findings, and their potential impact, with the attending veterinarian.

If treatment progresses, your dog will need to go to surgery for definitive repair of their dilated and torsed stomach, as well as to evaluate the health of the stomach wall and spleen. The surgery that will need to be performed is called a gastropexy. During a gastropexy (or "pexy" for short) the stomach is surgically "tacked" to the inner surface of your dog's abdominal body wall, making a permanent adhesion that will prevent a future episode of torsion. You should know that a stomach that has been tacked can still bloat or dilate, it just can't rotate or torse. There are several different types of pexy that can be performed. The attending surgeon will make the choice of type based on multiple factors, including your dog's medical status and stability under anesthesia, as well as the surgeon's skill and comfort level with each of the different types of pexy. In most cases, the choice of pexy type is not important as it relates to your dog's survival or chances of suffering another episode of GDV/Bloat.
Costs, complications, and duration of hospital stay
Regardless of the skill of the surgeon and the rest of the attending medical team, it is important to note that complications can occur. Some of these complications are listed below. They can occur at any time, even once your dog is out of and recovered from surgery. Their onset can be difficult, or even impossible, to predict. It is for this reason that dogs that have suffered from a case of GDV/Bloat need to stay in the hospital and under close professional supervision for a period of time following their surgery. This period is typically 48-72 hours, but it is variable depending on your particular dog's condition and the development of any complications.

I've highlighted the point about the supervision to stress that, even if your dog has had successful surgery at your regular, daytime vet's practice, they will want to transfer your dog to a staffed emergency & ICU hospital for overnight monitoring and care. The decision of whether your dog would then transfer back to your regular vet's office the following day is up to you and your regular vet, with input from the veterinarians at the ER/ICU, of course, too. Regardless though, these patients are critical in the post-op phase and require, amongst other things: injectable pain management and close monitoring of their heart rhythm, respiratory rate and effort, blood pressure, urine output, electrolytes, oxygen saturation, red blood cell count, and several other parameters. This cannot be done effectively, or safely, at home or in a hospital with no skilled and qualified overnight attending staff. Be aware of this to ensure that your dog is getting the best care possible.


Some potential complications associated with GDV/Bloat (either before, during, or following surgery):
heart rhythm abnormalities (called "cardiac arrhythmias") with the potential for resulting cardiac arrest
blood loss, possibly necessitating blood transfusions
death of sections of the stomach wall, which requires removal of those portions (called "gastric wall resection")
concurrent torsion of the spleen, possibly leading to tearing of the associated blood vessels and irreversible damage to the spleen itself - this might necessitate surgical removal of the spleen (called a "splenectomy")
inflammation of the lungs resulting from the presence of stomach contents that have wound up there following episodes of vomiting or regurgitation, this is called "aspiration pneumonia" and can prove deadly
delayed return to normal feeding


You might be starting to think that treatment for a case of GDV/Bloat is likely to be expensive, and you'd be correct in that assumption. I bring up costs here because they are a reality, and, as mentioned above, they often figure into people's decisions about the amount and level of care they are able to authorize for their pets. It is fairly typical for the costs associated with treatment for an (uncomplicated) case of GDV/Bloat to reach into the $2,500-5,000 range. The typical price range will of course vary slightly, based on geography, type of hospital where care is received, your dog's physiologic status at the time of presentation and during the course of their hospital stay, as well as their prior level of overall health, and a multitude of other factors. For those cases that experience any of the complications listed above, or others, you should expect the associated costs to be more in the $4,000-8,000+ range.

Again, this is where the importance of "financial preparedness" comes into play. I would suggest that, depending on your financial resources and because of costly emergency conditions such as this, it is well be worth it to look into pet insurance for your dog when they're healthy, so that you have it at times like these. This is even more important to consider and explore if you have a dog who would be considered "high risk" for developing this condition . Please read my article about Financial Preparedness for Pet Care and Emergencies for more information about pet insurance, CareCredit and other means of paying for emergency pet care.

I hope you now appreciate that, all other things being equal, the type and quality of the treatment a bloated dog receives can have a significant impact on their chances for survival. Mortality rates for dogs treated promptly and appropriately have been reported as low as 15% - as opposed to the 95% mortality rate for untreated cases.
Dogs with GDV/Bloat who are treated promptly and appropriately can be, and frequently are, saved.
For more information on GDV and Bloat in dogs, please read my other articles on this important topic – Understanding Bloat, Is My Dog at Risk for GDV/Bloat?, and What Are the Signs of GDV/Bloat in Dogs?


I hope you've found this informative and easy to follow. Please share this information with your dog-owning friends and family. Hopefully they'll never need it, but they'll sure thank you for it if they do.

*Note: Even though I highlighted the difference between the terms "Bloat" and "GDV" in my Understanding Bloat article, you've likely noticed that I refer to Gastric Dilatation and Volvulus as "GDV/Bloat" in this and other articles on the topic. I'm doing this because many pet owners (and vets) use the terms interchangeably, and it's important for everybody to realize that when most people google or say "Bloat," they are really looking for and referring to GDV. So I'm using the conjoined term to ensure that everybody can find and learn from this important information. I hope it hasn't caused you any confusion.



Please share your dog's GDV/Bloat experience in this short survey.

The information you share will help us help many more dogs.
It's anonymous and will take 2–5 minutes.
Thank you!