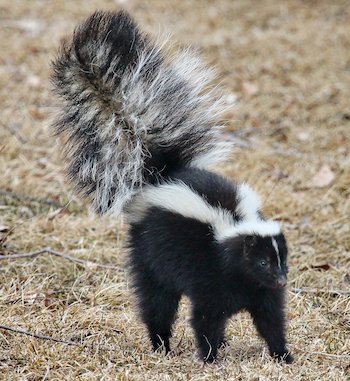 In the battle of pet vs. skunk, nobody wins. Right?
If a skunk tangles with your dog, the skunk will be scared or sadly even killed by your dog, and your dog will wind up smelling like a, well… skunk. And if Pepé Le Pew cartoons have taught us anything, the experience is no less unpleasant for a cat that gets skunked.
What to Do If Your Dog or Cat Gets Skunked
If your pet gets skunked, don't let them in the house or your car (if you can). It could take a lot of effort, money, and time (we're talking months) to remove the smell. Pew!

These encounters can be difficult to prevent. Fortunately though, if your dog or cat gets sprayed, at least your battle against your pet's new "scent" can be made a little bit easier thanks to science. Like your house and car, if your pet isn't washed properly, they could stink for months!

An Easy-to-Make Formula to Remove Skunk Smell

As you can see, with Hydrogen Peroxide, Baking Soda, and Dish soap (ingredients you likely already have in your home), you can finally win the day and rid your pet of their skunk smell! As mentioned in the video, tomato juice merely masks the smell but doesn't even come close to eliminating it. Even worse, it only masks the smell for you. This is due to something called "olfactory fatigue," which means the scent of tomato juice will help trick your nose into thinking the smell is gone. Other people, especially if the smell gets into your home or car... not so much.
Don't forget their eyes
It's also a good idea to rinse your dog's or cat's eyes with sterile saline eye flush and then apply some artificial tears (like the ones linked below) after they get sprayed by a skunk. The stuff that skunks spray can be highly irritating, leading to pain and potentially even a corneal ulcer. So flushing and treating their eyes afterwards is a great precaution for you to take if they've been sprayed around their face.
Hopefully your pets will never have a run in with a skunk. But because skunks are usually more active around dawn or dusk avoid letting your dogs out in your yard at that time or letting your cat wander outside. And, for dogs, walking them on a leash is always preferable to prevent your dog from running face first into a stinky disaster. If it happens though, you now have science on your side.