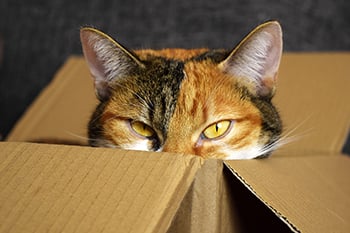 Being able to reunite a lost cat and their owner is a rewarding feeling, but it's also not always an easy task. Sometimes the cat won't approach you or for other reasons you might not be able to try and catch it.
In this case, taking a photo or writing a description and posting on social media with the location can go a long way in helping someone track down their lost cat.
If you see a lost or stray cat and feel you're prepared and able to help, and if it's safe to do so, here are some tips to help you find their owner as quickly as possible:
Safely Catch and Contain the Cat
If possible, try to snap a photo of the cat first. This way, if you're unsuccessful in catching the cat, you still have something to share with animal control and post on social media and lost pet websites.
Approach the cat calmly and encourage them to come towards you. Always be cautious when approaching an unknown animal, as they might be fearful and could lash out defensively. (See below for a Feline Body Language Chart that decodes what a cat is trying to say.)
Don't try and chase the cat, as this can scare them and cause them to bolt into an unsafe area, such as into a busy road.
If the animal is acting aggressively or you cannot safely capture them, contact your local animal control or police department. They will ask you for a description of the cat and the cross streets where you last saw them.

Do not put yourself in harm's way to try and capture a loose cat

.
Once you have the cat in hand, think about how you will keep them contained and safe while you search for their owner. Cats don't always like being held, but would do well in a cat carrier, a box with plenty of air holes, or a small and secure room of your home. Only keep them in your car if it is well-ventilated, they have access to fresh water, and the weather is not too warm or too cold. Heat stroke is a real possibility in a car, so take extreme caution.


Do not allow the cat to co-mingle with any existing pets you have at home. You can't be sure how they do around other animals and they might not be fully vaccinated or be carrying parasites, such as fleas or ringworm.
If the cat is injured, you can take it to the closest animal clinic for medical treatment. They will also be able to scan for a microchip and help locate the owner. (However, be prepared to take financial responsibility for any treatment and care.)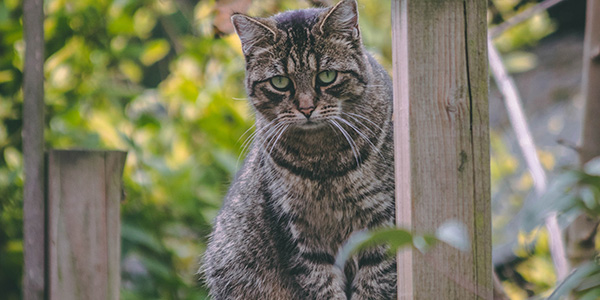 Check for Identification and Microchip
Hopefully the cat will have a collar with identification tags that will make contacting their owner nice and easy. If you cannot get a hold of the owner right away, it's helpful to notify animal control, nearby veterinary clinics, and your local animal shelters that you've found a cat, in case their owner calls there first.


If the cat is wearing a rabies tag, the number listed is unique to the animal and to the veterinary clinic where they received the vaccination. You should be able to call the vet to have them look up the owner information in their system.

They will likely contact the owner on your behalf and may offer to take the cat into their clinic in the meantime.
Some outdoor cats wear a collar that identifies them as an outdoor-savvy kitty. If this is the case, it's best to let them go on their way.
If the cat does not have a collar or ID tags, you'll want to have them scanned to see if they have a microchip. There are a few places that will most likely have a chip scanner:

A veterinary clinic
An animal shelter
A local animal control department
A retail pet supply store

If the animal has no ID or microchip, their best bet for being reunited with their owner is through the local animal shelter, as this is usually the first place owners searching for their pets look. If you would rather keep the animal with you, you should give the shelter a photo and description of the cat so they can include them in their found postings, and provide them with your contact information.
Spread the Word and Post "Found Cat" Fliers
If possible, take a photo of the cat and create a flyer to post in the area you found the pet. You can also distribute these fliers to local veterinary clinics as well, or go door-to-door in the neighborhood you found the cat.
We've created a Found Pet Flyer template that you can download for free here:
There are many groups on social media specifically for posting about lost and found animals. If you're on Facebook, post a photo in your feed. Many pets have been reunited with their owners this way. Browse local lost pet groups and create your own post about having found a cat. Some great sites to check and report to include: Nextdoor, PawBoost, Home Again, PetFBI, and The Center for Lost Pets.
Beware:

Unfortunately there have been instances when people posing as the owner of a lost animal contact the finder and claim it belongs to them.

When posting on sites such as the

craigslist.org

pet bulletin board, consider posting a brief listing without a photo (or a cropped photo) that asks the owner to contact you and give you more specific physical information about their cat to prove their ownership.
Cat Body Language