Do you have carved pumpkins you want to light up?
When it comes time to lighting up your (beautifully) carved creations, it's best if you opt for an alternative to traditional or tea light candles.

Not only will options like a powered flameless candle likely last longer than a regular candle, but you'll also avoid the potential for your pet to burn themselves or the house while walking past or investigating your pumpkins. Carved pumpkins do smell good!!
Some fun ways to light a pumpkin without a candle
The following is a list of several alternative lighting ideas to candles, many of which you might already have around the home. If you choose a battery-powered option, just make sure that the battery doesn't get eaten—some batteries are worse than others.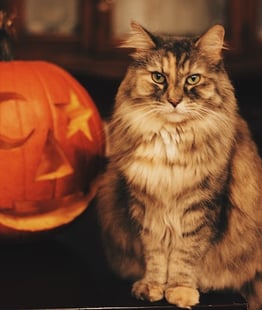 1. LED Pumpkin light - There are several options on the market for battery-powered LED lights made specifically for carved pumpkins. Some act as strobe lights or change colors!
2. Battery-powered tea light or candle - These flameless candles give off a similar flicker and glow to a candle without the waxy mess or the threat of wind. Some of these candles also have auto switches, so you don't even need to manually turn them on or off.
3. Glowstick - This inexpensive, easy way to add color and light to your pumpkin will last for hours and removes the fire hazard. Just be careful with this option for pets that like to chew on foreign objects because the contents can be very hazardous.
4. Flashlight - You may conveniently have a small flashlight lying around the house which you can tuck inside your carving. With fresh batteries, this bright light will last all through the night.
5. Christmas lights - For pets that are seasoned experts at leaving cords and wires alone, you can bust out your holiday lights a few months early. If your pumpkin can be placed near an outlet, bunch up your string lights and stuff them inside your carved creation.
6. Book light - Designed to last for hours, book lights can easily be manipulated to shine the desired direction you want.

For more (not so) spooky Halloween pet health & safety tips, please check out our Halloween Safety for Dogs & Cats article.