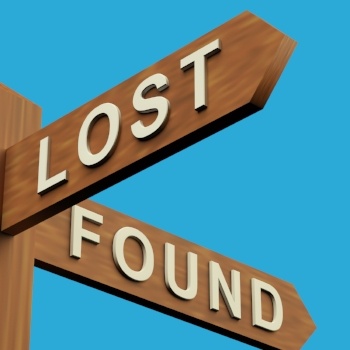 Lost Pet. Found Pet.
We hope that none of your pets go missing, but if they do the tips below may just help you find them. Keep in mind throughout all of this, the more people you can enlist to help your search, the better.
Start close to home: Keep in mind that a missing pet may actually be trapped somewhere inside your home, garage, yard shed, or somewhere else on your property. Give a thorough search, and consider carrying some of your pets favorite treats or toys with you while you do.
Expand your search: Check throughout your neighborhood, too. Don't forget about local parks, schools, and any local industrial areas. Be sure to ask your neighbors before searching their yard and outbuildings!
Enlist the help of your family, friends, and neighbors: Put out the call, go door-to-door, send out emails, and engage your social media network. It's amazing how many pets have been found following a posting on Facebook! Reddit has a Lost & Found Pet area, and Craigslist is a common site for people to post about lost and found pets, too. These tools can make a big difference.
Put your ID to work: Hopefully your pet is microchipped. If so, now would be a good time to call the microchip company to (1) alert them that your pet is missing and (2) ensure that your contact information is up-to-date. If your pet is wearing an updatable QR code ID tag from PetHub, now would be a good time to contact PetHub to alert them that your pet is missing and for you to also log into your pet's profile and add as much up-to-date information as you can.
Go where found pets go: Think about where you'd take a lost pet if you ever found one without ID. Most likely it'd be to one of the local shelters or county animal services, or a local veterinary hospital (don't forget the local veterinary emergency hospitals, just in case your pet was injured). Call and visit these places, bring a current picture of your pet. Just be patient with the staff at the shelter and vet hospital, they may be dealing with lots of ill pets and emergencies. Leave a "Lost Pet" poster and check back in with them daily to see if your pet has turned up.
Go where people go: Ask in the local shops (coffee shops, grocery stores, etc.) and at your local library to see if you can hang a "Lost Pet" poster. A lot of eyes walk through these places on a daily basis, someone might just recognize your pet.
Don't forget to "clean up": Once you're reunited with your pet, don't forget to circle back around and remove all of the "Lost Pet" posters you hung up and take down any "Lost Pet" notices you put up on social media, too. Not only will it help your friends, family, and neighbors celebrate the return of your pet, but it'll also help prevent them from continuing an unnecessary search.
And don't forget to have your pet checked over: Once you've been reunited with your pet, it's a good idea to bring them into your vet to have a check-up. Depending on their situation — how long they were gone, where they went, where they were found, etc. — your pet may have injuries, eaten something they shouldn't have done, picked up some nasty parasites, or any one of a host of other problems. A quick trip to the vet can help to put your mind at ease that all is well.
How To Make A Lost Pet Poster
1. Using a poster template like this one can help make things easier to design.*
2. Be sure to include:
Their name and breed
Their color and and point out any distinguishing marks (like Daisy's liver nose below)
Female or Male and approximate age
Date Lost
Location Last Seen
Your phone number


3. Use a current photo of your pet. it helps to have current photos of your pet on hand (on your phone). If the length of your pet's coat changes frequently, such as with grooming, be sure to take pictures of them over time in their "long coat" stage and their short (see examples below).
4. Print the poster on colorful paper, ideally. Using white posters, especially in the winter doesn't help them get noticed. See the true story below.
5. If you anticipate rain or snow while your posters are hanging, make sure to wrap them in plastic so they don't disintegrate and fall to the ground.
*If you can, make the poster in advance of ever needing it. If the need to use it arises, you'll at least only have to update anything that might have changed (like using a more current photo of your pet).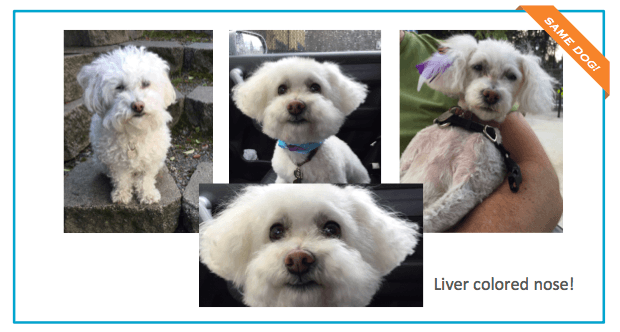 The Day(s) Many Pets Go Missing
Keep in mind that the day after holidays like July 4th in US and July 1st in Canada are the busiest in shelters. During these holidays and any occasion where there's fireworks, keep your pet securely inside.
True Story: Cat goes missing during one of the coldest winters
If your pet's missing we really hope you're reunited! Don't give up hope -- sometimes it just takes persistence, a good friend, and a couple bottles of wine (read Sawyer's lighthearted story).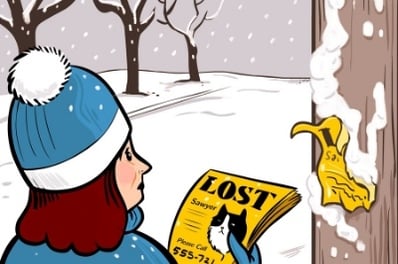 Please note: Unless otherwise stated, products, services, and/or companies mentioned, or links to same, are for illustration purposes only and their inclusion does not constitute an endorsement from Preventive Vet. Additionally, we are NOT compensated if you choose to buy what we feature.