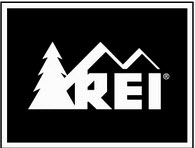 I suspect that many of you who are reading this will already love REI. What with their great selection of outdoor gear, and their environmentally and socially sound business practices. Well, prepare to have yet another reason to love this great organization! This past weekend,
the wonderful crew at the REI here in Portland Oregon actually helped me save a dog's life.
That's right - they helped me save a dog's life! How's that for great employees and a great organization!
Now, while you might be picturing REI team members, decked out in their green vests, swooping down from the sky to pluck an unsuspecting puppy out of harm's way as an out-of-control car is barreling down on it, the scene wasn't quite that dramatic. Though, come to think of it… how cool would that be! Heck, they've got all the necessary rappelling gear right there - it could happen. Right?
Well, while that wasn't exactly (or even remotely) the scenario, or way things unfolded this past Saturday, those who acted to save this little dog's life are still heroes in my book. So I'm sharing this story both to thank them and give them the recognition they so well deserve, and also to increase awareness of the inherent danger of leaving pets in parked cars - even in scenarios where some people might think it'd be ok.
So, without further ado - here's an account of what happened in NW Portland this past Saturday at around 4pm... a day and time when the outside temperature was a scorching 86 DEGREES!
As I exited my car on the second floor of the REI parking structure, I was met by a stagnant and truly oppressive wall of hot air. After adjusting to the heat (which I don't do easily), I noticed that the back window of the car parked directly next to me was cracked open, about 2-3 inches. And while many people may not give such a thing a second thought, doing what I do and being who I am, I always associate "cracked windows" with the presence of a pet (or child) in a vehicle.
So I looked through the windows, towards the seats and down by the footwells - thinking for sure that I would spot a dog. But on first inspection, surprisingly, none seemed to be present. It wasn't until I walked around to the back of the car that I noticed this small dog (see video below), panting away, laying on the shelf between the back seats and the back windshield.
Initially, I did a "double take"… not only couldn't I believe that I hadn't seen this little guy when I first looked in the car, but I also couldn't believe that someone would leave their dog in such a dangerous situation! I quickly turned my focus to evaluating this little guy's condition, best I could, from my vantage point outside the car. Once I was sure that he was indeed experiencing heat stress, but that he was otherwise "mentally appropriate" (or, as we would say in the ER, had an appropriate "level of consciousness" or "appropriate mentation"), I grabbed my trusty iPhone and snapped a quick picture of the dog - making sure to get the license plate of the car in the shot to use when the PA announcement would - I had hoped - be made. I then shot the short video you see above so that I could, if needed, convince the people in control of the PA system (or the owners of the dog) that this dog was indeed not enjoying life presently. And that he would soon be on his way to developing heat exhaustion with subsequent
heat stroke
, that could quickly end his life.
Fortunately, because of the level of concern the members of the REI staff exhibited, and because of their rapid and appropriate actions, the video wasn't even necessary to convince them. (Heck, I didn't even have to play the whole "Trust me, I'm The Preventive Vet" card, either.) They just jumped right into action! The cashier (who was in the middle of checking a couple out) immediately flagged down a manager, who then promptly made an announcement over the store's PA system. The announcement was clear, unequivocal, and loud - it was a thing of true beauty… and it worked!
It went something like this… "Would the owners of the silver Toyota Camry, parked on the second floor of our parking garage, please return to your car immediately to help your dog who is overheating in your car."
Like I said… a thing of true beauty. Don't you agree? I only wish that I had recorded his announcement - so as to provide a great example for the training of others, who may some day have to make a similar announcement.
I think that what I liked most about it, aside from the fact that it worked, was that he struck the right tone - conveying the urgency and severity of the situation, while not being condescending or otherwise judgmental. After all, the likelihood is that the owners of this little dog hadn't meant to endanger his life - they likely assumed that he'd be just fine. After all… they were parked in the shade of a parking garage, they left the window cracked, and they were probably only going to be in the store a few minutes. Right?
Sadly, we've all heard those stories and lines of thinking before - they're all very common. However, what we know - unequivocally, from the myriad cases of heat exhaustion and heat stroke that we all read about in the news everyday, and that my colleagues and I see rushed into the veterinary hospitals all across the country - is that these lines of reason are also wrong, and that they're often tragically and fatally so.
It is for this reason - to raise awareness, both for the sake of preparation and for prevention of this scenario - that I have written this post and shared this video. It's my hope that you'll now do your part. That you'll keep an eye out and be vigilant, that you'll leave your pets at home rather than take them with you on an excursion to run errands on a warm day, and, very importantly, that you'll also help others learn these important lessons. You can easily and effectively accomplish the latter by sharing this pos and by speaking with your friends, family members, and neighbors about heat stroke and other heat-related illnesses in pets. The more people who stand up and say "I Hate Heat Stroke", the more people who pass along this important message, the better off all pets (and their people) are going to be.
I'm thrilled to report that this story had a happy ending - not all such stories of pets left in cars do. When I returned to my car a very short time later, the car with the dog was gone. (Hopefully not off to run another errand!)
So, I say kudos to you REI... for hiring and supporting the type of people who would jump into action so quickly, so effectively, and so tactfully! And muchos kudos to you, Adam and the rest of the Portland REI team that took such wonderful and decisive action that day to help save a little dog's life! You should all carry your heads just a little bit higher today and be proud of yourselves for what you did.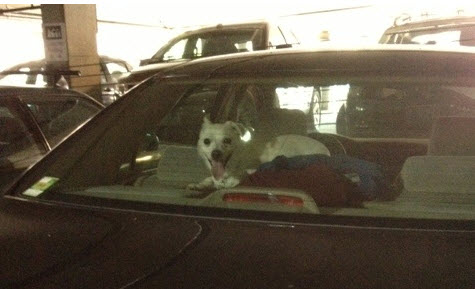 I don't know this little guy's name, nor do I even know where he is now, but I do know that your quick and appropriate actions help to ensure that this little critter didn't die an agonizing death from heat stroke this past weekend. And, for that, I'm sure he would be eternally grateful - and I'd hope that his people would be, too!
Do you have any thoughts on or experience with heat-related illness in pets? Have you treated pets for heat stroke? Have you had a pet suffer from it - either in a car or any other situation? Have you ever tracked down an owner in a store or called the authorities to help a pet suffering from heat stress in a parked car? Please, share your stories in the comments section below, and please come join the "I Hate Heat Stroke" Communities on both Google+ and Facebook, too. Together we can all make a difference!
And you can help spread awareness by downloading and sharing this #HotHappensFast poster.