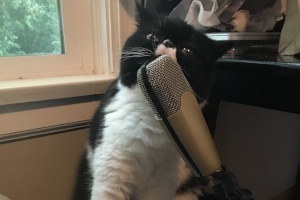 The week of June 18-22 is Take Your Pet to Work Week. And if the photo to the left is any indication, my cat, Mazel, is dropping some hints that he'd like to participate.
Of course, just because you can bring your dog or cat (or goat?) to work, doesn't mean that you always should.
On this episode of Paws and Play with Dr. J, we discuss a lot to consider for everyone involved, including the property managers, HR, fellow employees, and what you need to think of on behalf of your pets.