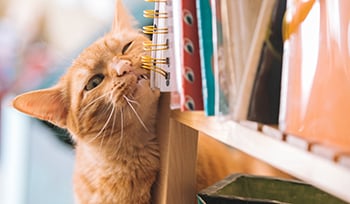 We're back with certified feline trainer and behavior consultant, Dr. Marci Koski, to do a deeper dive into cat spraying.
We know cat spraying is one of the most frustrating — and stinky — issues cat owners deal with, and it's also a major contributor to cat relinquishment, and even euthanasia.
So, to avoid the stress and anything else that may potentially come with it, Marci provides some great ideas for doing your own sleuthing to figure out the underlying issues as to why your cat is spraying, and then gives some great suggestions for helping stop this unwanted behavior.