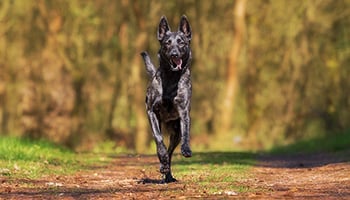 On today's episode, we give Dr. J a break and I sit down with PV's dog behavior and training expert, Cathy Madson, to discuss what you should do, and what you shouldn't do, if you're ever approached by an off-leash dog.
It's a really important episode, because the answers aren't as intuitive as you might think. So pay attention because these tips could really come in handy if you're ever in this situation.

Paws & Play
What to Do When a Loose Dog Approaches
A while back, we received a great question from our listener Rebecca, about how to stop a loose dog from trying to attack you. She had recently gone through a traumatic experience when a neighbor's dog was aggressively snarling at her through a fence. That can be scary enough, but the dog kept following her, and she suddenly realized the fence was ending and the gate it was connected to was wide open, leaving her vulnerable.
Thankfully, she was able to escape unharmed, but unfortunately, this is something that happens pretty regularly. Also unfortunately, we didn't have anyone qualified to answer this dog behavior question...until now!
Read Cathy's blog post about what to do when an off-leash dog approaches for a quick written reference of what was discussed in today's episode.
Thanks again for reading and listening. Have a story to share with us? We'd love to hear from you!