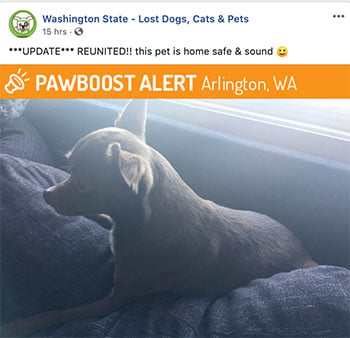 On today's show, Dr. J, Cathy, and I walk you through the steps of what to do if you should ever come across a dog or cat you think is lost.
Every situation is different, and it can be really tricky to know what to do in the moment.
But whether you're short on time and can only do the bare minimum, or if you're in it for the long haul until the owner is found, there are plenty of ways you can help, and thanks to the Internet, a growing number of resources available to aid in speedy reunions.
Summary and Quick Links
If you came to this post because you need quick answers, keep listening to the podcast and click the links below to read Cathy's guides to finding lost pets, including a video tutorial for making an emergency harness for dogs, and illustrations for decoding animal body language.
What to Do When You Find a Lost Dog
What to Do When You Find a Lost Cat
Helpful Online Resources to Help Reunite Lost Pets
Nextdoor is a great place to post about a found pet because it connects you directly with neighbors and the surrounding areas.
Pawboost will send out a picture, email alert, and post to lost pet Facebook groups in the area.
Facebook, while difficult to navigate and not find someone to argue with in a comments section, can be an incredibly useful tool for helping to find lost pets and their owners. Use the search bar and type, "Lost Pets of (insert your neighborhood, county, city)", and you will likely come across a group to post to, and you may even come across a posting for the pet you've found!
It turns out, Dr. J was right about the awesome awareness campaign from The Oatmeal.
Thanks again for reading and listening. Have a story to share with us? We'd love to hear from you!