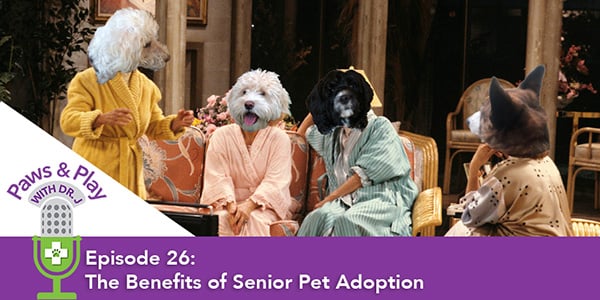 This episode, Dr. J, Cathy, and I talk about the many benefits of adopting senior dogs and cats. Unfortunately, they are often overlooked at the shelters, but we believe a lot of that may be due to misunderstanding and misinformation.
Seniors are filled with love, and many are also filled with a whole lot of life! You may be surprised at how well an older dog or cat fits in with your lifestyle.

Paws & Play
The Benefits of Senior Pet Adoption
At what age are dogs and cats considered "senior"?
This actually varies, not only by species, but also by size and breed. So, smaller breeds like Chihuahuas and Yorkies will become seniors later in life, as opposed to a Bernese Mountain Dog, Irish Wolfhound, or other giant breed.
On average, small breed dogs become seniors between 10-12 years. For giant breeds, it's between 6-7 years old. And everyone in between is around 7-9 (depending on many factors).
Cats on the other hand, tend to be considered seniors around 12-13 years old.
And then there are geriatric pets, which, rather than age, is more health related. So once pets start seeing a decline in health, mobility, and cognitive functions, they fall into the geriatric, or "Super Senior" category.
Age is NOT a Disease
Let me repeat that for everyone in the back: Age is NOT a disease. Old is relative, and as Aaliyah sang, age ain't nothing but a number. As Dr. J points out, much like in human life, there are plenty of senior dogs and cats who are healthier than their younger counterparts. Seniors can live amazingly full, rich, long, comfortable, healthy lives, especially if you work closely with your veterinarian.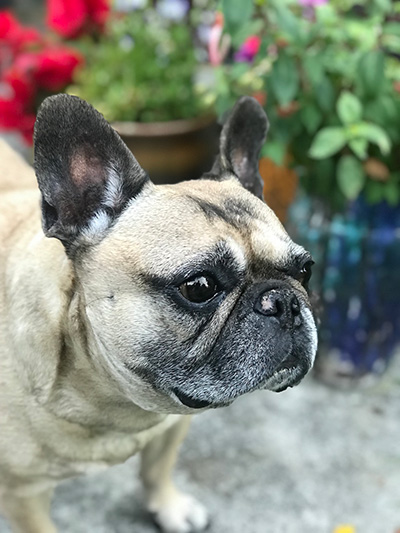 My gorgeous 11.5 year old senior, Marshall Jolie-Pitt
You Can Make a Huge

Difference
Not that puppies and kittens belong in shelters, but seniors have a much harder time adjusting. For the most part, these seniors have had a life in a home, and this new way of life puts an incredible amount of stress on them.
In fact, many of these senior pets have been put in shelters after their elderly human has passed and family members aren't able, or willing, to take the animal in.
Don't Forget, With Puppies and Kittens Also Comes Their Energy
It has been years since I've had a puppy living with me, but the PV office now has two. Let me tell you, puppy energy is on a whole other level.
We have a fun game called, "Who just peed and pooped over here?" and we play it regularly. Thankfully, we know how to clean puppy accidents properly.
A lot of people looking to bring a new dog into their family seem to forget, or totally dismiss the amount of work, money, time, and energy it takes to raise and properly train a puppy. This is another huge benefit of adopting senior dogs.
Senior dogs are (for the most part) house trained. And even if they are very active, like my man Marshall, they spend more time resting, and their zoomie times are still way more chill than a puppy.
If you live in an apartment or smaller home that doesn't have a lot of room for play time, or makes it really difficult to potty train, an older dog who requires less exercise and less frequent bathroom breaks might be a great option for your family.
So, when you consider the best match for your household, make sure to really take into account your lifestyle.
You Can Teach an Old Dog New Tricks
Senior dogs can be a lot of work and can also have their own behavior issues that need to be worked on. But the good news is that they can be worked on, and you'll likely already know what you're getting into ahead of time, which really isn't the case when it comes to puppies.
Medical Issues? Sometimes Knowing is Half the Battle
Even if a senior pet has medical issues, it doesn't mean they should be overlooked. Many times their conditions are totally manageable and simply require a little extra attention and care. As long as you stay on top of it, and work with your veterinarian, they can live long happy comfortable lives giving and receiving unconditional love.
Check out this FANTASTIC senior pet adoption campaign, "Because I'm a Grown-Ass Adult" and spread the word far and wide!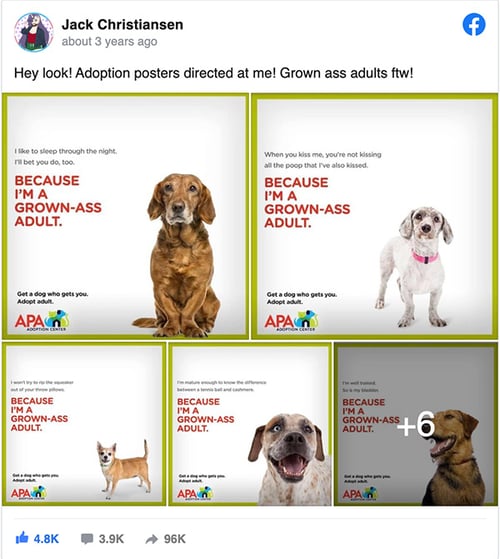 Thanks again for reading and listening. Have a story to share with us about your senior pet adoption? We'd love to hear from you!