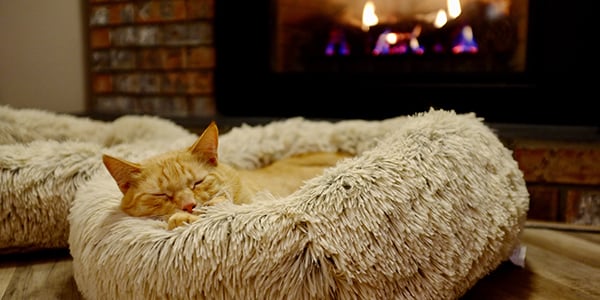 While it's easy for us to bundle up and ensure our comfort and safety, our dogs and cats are relying on us to help do the same for them.
On this episode of the Paws & Play podcast, we talk about the different steps you can easily take to help keep your pets healthy and safe during the cold winter months.

Paws & Play
Winter Pet Health and Safety Tips
Paw Patrol
Ice Melters: Great for Not Getting Sued by Someone for Slipping on Your Sidewalk — Terrible for Paws
While the cold air and wet snow can cause irritation to your dog's paws, that's nothing compared to the effects of commonly used ice melters, which have been known to take paint off of cars and damage roads — so it should come as no surprise that they can cause chemical burns on your dog or cat's paws.
"The most common ice melters are salt-based," says Dr. J. "They can cause chemical burns on your dog's paws directly, but what frequently happens is dogs lick it off. And if they ingest a bunch of it they can wind up with sodium poisoning, which can cause neurological problems and digestive issues."
There are safer ice melters (but no completely pet-safe options) available. Here are two of the safest and best ice melting options to use when you have pets: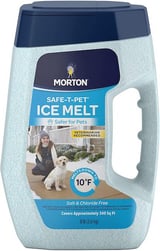 Morton Safe-T-Pet Ice Melt
Buy on Amazon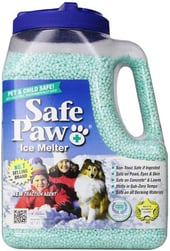 Safe Paw Ice Melter
Buy on Amazon
Read more about what makes some ice melters safer for pets than others in "Which Ice Melters are Pet Safe?"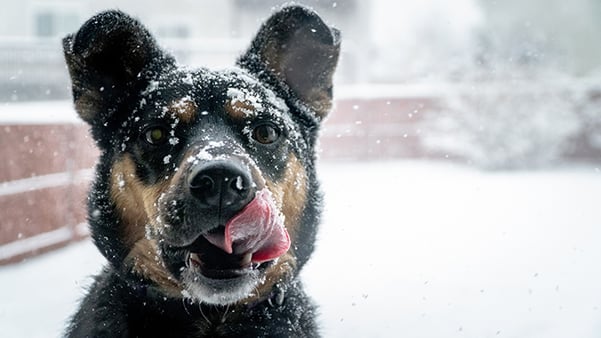 Ways to Protect Your Dog's Paws in the Winter
Your dog's paws, and especially their paw pads, are vulnerable during the cold winter months. From stepping in ice melters to skin cracking from cold temperatures, cuts or scrapes from frozen terrain, and even ice or snow building up between toes. Products such as dog boots or protective paw balm can help keep your dog's paws in tip-top shape.
While the myriad of YouTube videos showing dogs in booties are some of the most entertaining out there, it's important to help your dog feel comfortable wearing boots or socks and teach them how to walk normally. Introduce your dog to their new boots gradually and pair them with yummy treats so your dog looks forward to putting on their shoes. Watch this video to see how to teach your dog to wear booties:
If your dog is completely against wearing boots or socks of any kind, there are paw balms that create a protective wax barrier and prevent ice from forming between toes. The most popular, and our favorite is Musher's Secret.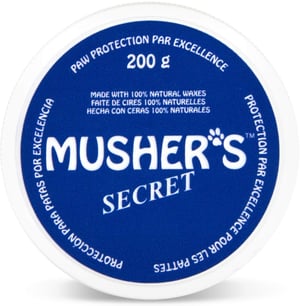 Musher's Secret
Buy on Amazon | Buy on Chewy
Any time you come inside after a walk or outdoor play, a paw bath will rinse off any irritants or mud and dirt. This also gives you a chance to check between your dog's toes for anything out of the ordinary. Check out "How to Properly Care for Your Dog's Paw Pads" for more tips and tricks for your dog's paws.
Keep The Fun & Exercise Indoors
If you're used to being active with your pets outside, when the weather gets chilly there are easy ways to provide physical and mental exercise indoors instead. "Don't overlook the power of mental exercise in terms of training, brain games, dog puzzles, interactive feeders for cats, and things of that nature when it's too cold to go outside," says Dr. J. Need inspiration? Here are 10 Boredom Busters for Dogs to get you started.
Household Winter Hazards
Fireplaces & Wood Stoves
Smoke from burning wood results in creosote buildup, which is not only a respiratory hazard for both people and pets, but since it's extremely flammable it's also a major fire hazard. Have your chimney and fireplace inspected regularly and cleaned annually to prevent creosote buildup.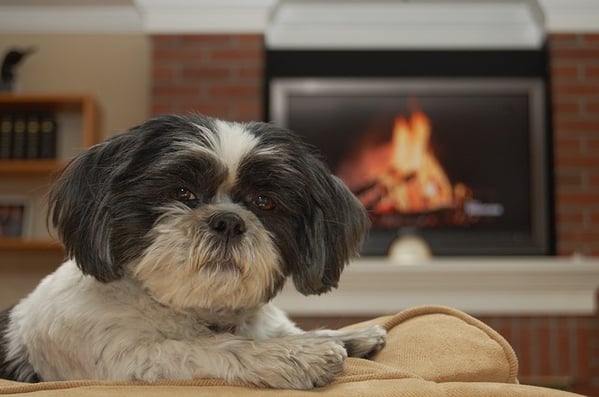 Make sure your wood-burning stove or fireplace has proper ventilation as well. Smoke inhalation is dangerous for everyone in the home, not just your cat or dog. Smoke is especially irritating to pets with existing respiratory conditions such as cat asthma, chronic bronchitis, collapsing trachea, or laryngeal paralysis.
Cats love to perch on different surfaces, which means that your feline friend might choose your wood stove or radiator as their usual resting spot during the summer, not knowing that in the winter those places will be too hot and will burn. Give your cat other places to lounge year-round, like a cat tree or window perch, and discourage them choosing a stove or heater for their resting place. You don't want them to burn their paws if they jump up on a hot surface.
Central Heating & Air Filters
Check your heating system or wall heaters for excess dog or cat fur build up before turning them on for the year and clean them often. Heaters also tend to dry out the air in your home, which can cause flare ups in upper respiratory tract infections and put your pets at a higher risk of illness during the winter months. Adding a humidifier to your home can go a long way to help your dog or cat stay hydrated, along with easy access to water, regular cleaning of air filters, and feeding your cat wet food.
Knock or Honk Before You Leave the Driveway
It's quick and easy to knock on your car hood or honk your horn before driving off — and you might just save a cat's life! Many cats like to curl up by a car's warm engine block and you don't want them to get injured when you turn on your car. And it's not just for cars parked outdoors either! If your cat has access to the garage, they might find that the car is a comfortable napping spot. "It's a good habit to get into, especially in the wintertime," encourages Dr. J.
The caption reads, "Now that the chilly temperatures have arrived, don't forget to check under the car hood before starting your engine in case any cats (or cows) have taken up residence trying to get warm. ☺️"