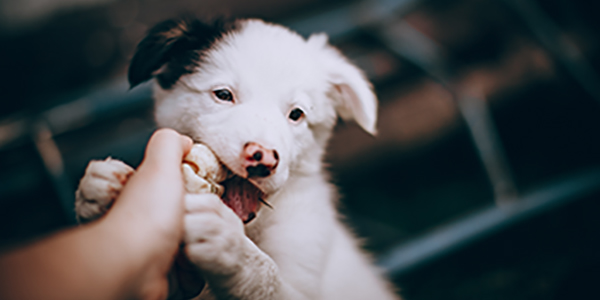 For some people, one of the most frustrating things about raising a puppy is dealing with nipping and biting. The good news is that it's entirely normal for your puppy to want to nip and chew on any and everything they see — the bad news is that their needle-sharp puppy teeth can really hurt! You don't want your puppy's nipping turning into a lifelong habit. But, with consistent training and redirection, you can nip your puppy's biting in the bud!
Beyond just nipping at you or other people, puppy mouths can get them in a lot of trouble. Puppies live as if nothing is off limits and want to put everything in their mouths. Besides working on nipping behavior as outlined below, make sure you start off with puppy proofing your home to help keep them out of danger.
Read on for tips on curbing puppy nipping, how to keep it from developing into a habit, and how to teach your puppy proper bite inhibition and impulse control.