Dr. Jason Nicholas, BVetMed (Hons)
Pet Health & Safety Expert I Veterinarian I Media Spokesperson I Author
Dr. Nicholas (a.k.a. Dr. J) is a well-known pet health & safety expert, media resource, author and veterinarian. As the Preventive Vet, he is considered one of the foremost experts and public speakers on pet health and safety for cats and dogs.

After many years in both general practice and the ER, Dr. Nicholas found himself treating case after case of preventable issues and injuries in pets. It was then that he realized that pet owners needed reliable information and advice to help them prevent these problems before they occurred. It is his mission to significantly reduce the occurrence and severity of the preventable injuries, illnesses, and deaths that cats and dogs suffer all-too-often.

In addition to being the main contributor to Preventive Vet's website, Dr. Nicholas also works with and speaks to industry associations, veterinary practices, animal shelters/rescue organizations, breeders and animal trainers, enabling more of the people who take care of the nation's pets to learn from his unique insights and experiences, and his valuable preventive approach to pet health & safety.

Dr. Nicholas' book series, 101 Essential Tips for dogs and cats is described as "Life's Little Instruction Book" meets "What to Expect When You're Expecting" (a new puppy or kitten, that is). These fun, indispensable, and easy-to-read 101 guides have won the recommendation of The Animal Medical Center of New York City, The ASPCA Animal Poison Control Center, The American Animal Hospital Association, among other veterinary and pet health organizations. Offering concise, bite-sized chunks of first-hand advice from Dr. Nicholas, it's been called a "must have" and the "perfect puppy- or kitten-warming gift."

A native of the east coast of the US, Dr. Nicholas is a 2004 honors graduate of The Royal Veterinary College in London, England and a graduate of the 2007 Internship class at the Animal Medical Center in New York City. He is a member of the American Veterinary Medical Association, Oregon Veterinary Medical Association, Portland Veterinary Medical Association, and the Veterinary Emergency and Critical Care Society. He is an Executive Board member of the Portland Veterinary Medical Association, and a past member of the Board of Directors of the Portland-based, non-profit The Whole Dog Academy.
Though his clinic duties and his role as the Preventive Vet keep him very busy, Dr. Nicholas does take time to enjoy life with his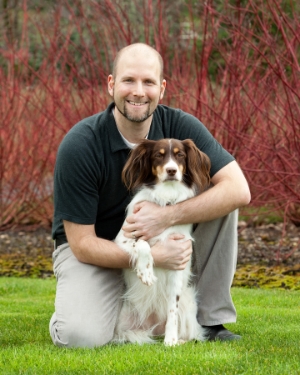 family. When he's not sharing his unique insight with the media, seeing patients, speaking with a group of new pet owners, or writing, he likes to hike, cook, camp, ski, and generally explore the Pacific Northwest, and beyond. He lives in Portland, Oregon with his family (both two-legged and four).


Dr. Nicholas is available for media appearances, phone interviews, article writing and group/event presentations. Please direct all enquiries and requests to Dr. Nicholas at the contact link below.

Contact Us and we will be in touch within 24 hours. If you require a more immediate response please let us know and we will make every effort to get back to you as soon as possible to meet your deadlines.


Follow Dr. Nicholas and Preventive Vet on Twitter, Facebook, and our Paws & Play podcast.