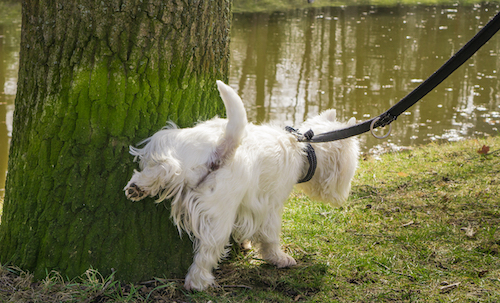 Reading the 'Pee Leaves'
Did you know that the way your dog is peeing — or not — can give you some important information about their urinary, and even overall health. This article will highlight some of the signs you may notice when your dog pees that could indicate that a vet visit is needed.
Straining While Peeing
If your dog is struggling or straining while they're peeing, it could actually be a very serious emergency condition. Both male and female dogs can have their urethra (the tube that connects the bladder to the outside world) blocked by a urinary stone, scaring, inflammation, or even a tumor. Male dogs can also suffer a urethral blockage from an overly enlarged prostate (more of a problem in male dogs that haven't been neutered, as the prostate grows under the influence of testosterone). You should always err on the side of caution if you see your dog straining to pee and bring them for immediate veterinary evaluation. Even if they're not "blocked," your dog will be happy that you had them checked to be sure.

Read More