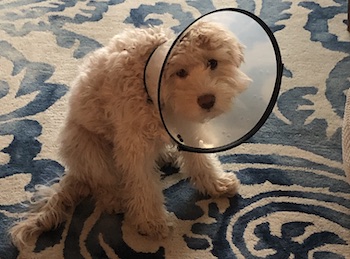 The Cone. Cone of Shame. E-collar. Whatever you call it, your dog is bound to have to wear one at least once in their lifetime due to spay or neuter, an injury, or skin condition. Elizabethan collars (e-collars) help your pup heal by stopping them from licking, scratching, or rubbing the affected spot.
Elizabethan collars were named because of their likeness to ruffs popularized by Queen Elizabeth I in the Tudor period. While your pup doesn't look as stylish as the Queen, it does protect them from licking, scratching, or biting areas they shouldn't, promoting faster healing times.
My puppy Mary Berry, a mini Goldendoodle, celebrated National Spay Day by getting spayed! With a bunch of extra hugs and some tears (mine more than hers), I left her in the capable hands of our veterinarian. I picked her up about 6 hours later — loopy, sleepy, and wearing a cone. She was very excited to see us, and her cone was flopping around every which way.
Read More