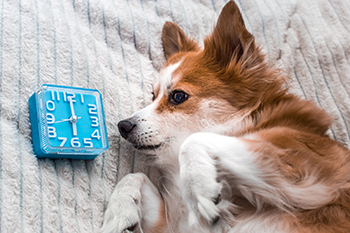 You might have heard that keeping your dog on a daily routine helps with behavior and training — which is true in some cases. But sometimes a strict adherence to a routine creates anxiety issues in your pup when all of a sudden they have a day where the routine gets thrown out the window. Lots of unplanned events can pop up and you don't want your dog to become stressed if they don't get their walk at the normal time, or you won't arrive home until later than usual.
For dogs that suffer from separation anxiety or isolation distress, they are extremely aware of routine events that predict your leaving, which triggers their anxiety. When working on separation anxiety with your certified dog trainer or board-certified veterinary behaviorist, modifying your pre-departure routines might be one of the first steps of treatment.
So when is a routine helpful versus a hindrance? Let's look at different reasons a routine might be a good choice for you and your dog, versus when you might want to mix it up.
Read More