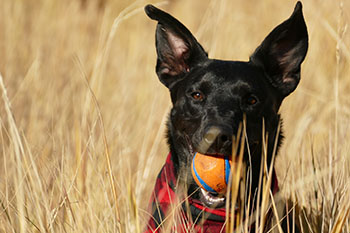 Does your dog love to play fetch? Fetch is a great way to exercise your dog, strengthens the bond between you and your dog, and has the added benefit of helping train your dog's Come-When-Called and Drop-It cues. You can play fetch any time, indoors or outdoors, whenever your dog needs to burn some extra energy.
You might have a breed that's predisposed to love playing fetch (a Labrador or Golden Retriever), or maybe you've trained your dog to play fetch — some dogs prefer a regular ole' ball, while others prefer stick-like toys. Still others prefer to catch frisbees or chase floating toys so they can play in the water on a hot summer day.
Do you have a small breed dog? Tiny pups can enjoy fetch too, as long as their fetch toys are the correct size and weight, and I've included some great fetch toy options for small breeds below.
It's fun to try out different fetch toys and switch them out every so often for your dog's mental enrichment. Let's take a look at some different high-quality toys to try out next time you play fetch with your pup!
Read More