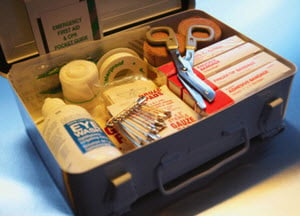 What to put in your pet first-aid kit and why

When your dog suffers an illness, injury, or poisoning, knowing what first aid to do (and not do) can have a big impact on their recovery, safety, and comfort. It can also help your emotional stress, because you'll have a plan of action to follow whenever a problem arises. For these, and many other reasons, I always recommend that dog owners take a pet first-aid class. But that's not the end of the story.
Regardless of whether you've taken (or are planning to take) a first-aid class, you still need to have the supplies and "gear" handy to be able to administer first aid to your dog. And that's where having a good pet first-aid kit (or two) comes in.
Do you have a pet first-aid kit? If not, you really should — and this article will show you what you need in your dog's first-aid kit and why.
If you already have a first-aid kit, when was the last time you checked and updated it? Have your stocks run low? Are the medications expired? Does it truly have everything you might need? (Many pre-made pet first-aid kits don't!)
Read on to see what your dog's first-aid kit should have, and what each of the items is necessary for.

Have a cat? Check out this first aid shopping list for cats.
Make Your Own Pet First-Aid Kit
To make it easy for you to put together (or check) your pet first-aid kit, we have a shopping list (for mobile or printable) for you to take to your nearest pharmacy to grab your dog's first-aid supplies.
Want to make it even easier for yourself (and likely cheaper, too)? We've sourced and linked to good quality/value examples of each of the first-aid items below. Each item on this list has been vetted for you to ensure that you're getting the right products and brands that will be most effective, practical, and safe for inclusion in your dog's first-aid kit. [Full Transparency: Product links are Amazon Affiliate links. Learn more here.]
Hopefully you'll never need to use your dog's first-aid kit. But, you never know, and well... Murphy's Law. So here's how to prepare...
Read More