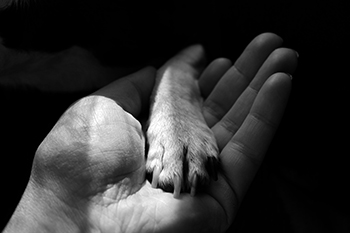 One of the most beautiful parts of having a pet is the human-animal bond that develops. For many people, a pet becomes part of their family, much like a human child. For anyone who has pushed their dog or cat down the sidewalk in a stroller, let their pet sleep in their bed (or even under the covers), stayed up late with their pet after a surgery or when that pet is feeling sick, then your relationship is on the level of family.
It is understood, although not often acknowledged, that the heartbreaking part of having a pet, is that their lives are so much shorter than ours. When a pet is brought into the home, they weave themselves into the fabric of your life and often will pass away before their human family counterparts. End of life care is a shared experience for all pet owners. Although all pets will transition away from this world in different ways, many pet owners will have to witness a decline in quality of life. They will have to make a difficult decision about choosing euthanasia for their pet.
To anyone going through a decision on euthanasia or witnessing their pet struggle with waning quality of life, I send my love and comfort your way. You do not have to go through this process alone.
During this difficult time, you'll need to consider these end-of-life options for your pet:
Let your pet pass away naturally when it is time. Stay in close communication with your veterinarian for guidance to avoid prolonging serious pain or suffering of your pet.


Try to extend your pet's life length as much as possible – this strategy often results in emergency veterinary visits (inevitably in the middle of the night) to euthanize.


Maximize your pet's quality of life and then strategically choosing the time of euthanasia while your pet still has dignity (for example, some dogs know that they shouldn't potty inside, but are too weak to hold it).
There are many reasons why I believe you should consider at-home or in-home pet euthanasia. This article will examine the concepts of quality of life and euthanasia, why euthanasia is performed in pets, the process of having a pet euthanized at home, and what to expect.

Read More