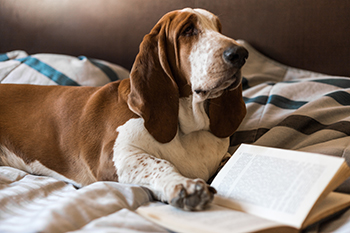 At some point in their life, your dog will need to be left alone. Unfortunately for us, we just can't take them with us everywhere we go. (Nor should we ... don't forget about the dangers of dogs, and especially puppies, in hot cars!) An important part of raising your puppy or welcoming a new dog into your life is to help them get used to being alone.
If your dog never learns how to stay calm when home alone for varying amounts of time, they can develop separation anxiety — which is a tough condition to treat. It's much easier to prevent separation anxiety than it is to fix after the fact, and teaching your puppy or dog how to be alone is the number one thing you can do for anxiety prevention.
Dogs are social creatures and it's important they share in daily life and get to spend time with their family. But taking the time to make sure they will feel A-OK if you need to leave them at home for a bit is essential for their mental well-being.
Follow these tips to help your pup learn that being alone is just fine:
Read More