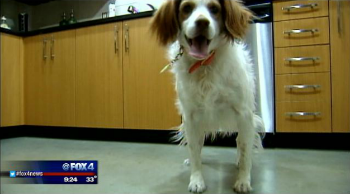 We animal lovers know the feeling when your pet is sick and you feel helpless. Well, imagine if your dog is struggling to breathe, desperately gasping for what could be his last breath while you're otherwise helplessly racing to get him to the vet!

One Texas woman didn't have to imagine this horrific scenario — it actually happened to Carolina and her 13-year-old dog, Scrappy, who had recently been diagnosed with Laryngeal Paralysis.

She "put the pedal to the metal" and was stopped by a patrolling Dallas police officer, who by the way has a series of (crime) prevention tips on YouTube - a kindred spirit for us at Preventive Vet - anyway, he didn't miss a beat. He grabbed Scrappy and took both of them to the Animal ER, stat! Likely saving Scrappy's life, and definitely saving Carolina quite a bit of distress and anxiety!

Read More