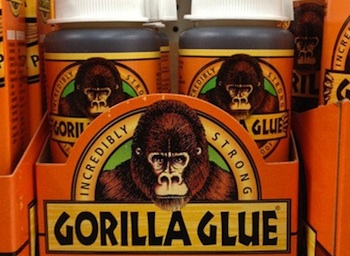 As a vet, I've seen the results of dogs eating Gorilla Glue and other polyurethane glues first hand. The stomach obstruction caused can be devestating, even fatal. It's the reason we've shared the dangers of polyurethane glues for some time now on our site, but it's the stories pet owners send us that really help to underscore just how important it is to take steps to keep these glues well out of your pets' reach.

Here's what Samantha C. shared with us:
"My dogs also got into this glue this week. They are still at the vet's recovering from surgery. My boxer had a basketball-sized amount removed from his stomach, and my Siberian Husky had a softball-sized amount removed. We were quoted $2K for their surgeries (total). They ate the glue in a fit of panic after I accidentally locked myself out of my apartment. They could hear me outside, and just freaked. They jumped up on a shelf in the laundry room, which they normally NEVER go into, and ate it."
We thank Samantha for sharing her story so that others may avoid a similar emergency. It can so easily happen to anyone! The effects of the common canine trait of "eat first, ask questions later," and why they find this type of glue so enticing are demonstrated in this time-lapse video.
Read More