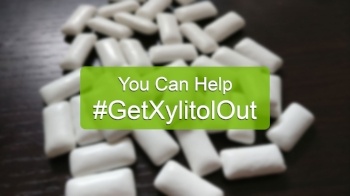 Getting Xylitol Out of Gum Would Help Thousands of Dogs
Xylitol is a "sugar alcohol" sweetener that's becoming an increasingly common sugar substitute all across the country. Though it's found in a great many products (700+ and counting!), sugar-free and "sugarless" gums are, by far, the most common source of xylitol poisoning in dogs. You can help change that.
With just a share and a signature, you can help #GetXylitolOut of gum and protect thousands of dogs each year. We've even found a dog-safer replacement sweetener that the gum campanies can use — it's called erythritol, and it may even be better for your teeth, too!
Now we can do more than just raise awareness about the dangers of xylitol. We can actually get rid of one of the biggest xylitol dangers to dogs! Please sign our Change.org #GetXylitolOut petition and read on to learn more about this problem and to see what else you can do to help.
Read More