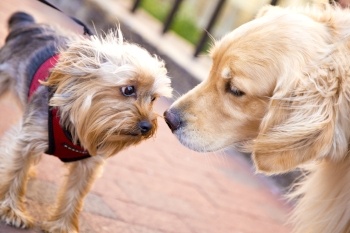 Introductions Are a Process, Not a One-Time Encounter
When you get a new dog, you may be eager and excited to welcome this new member of your family into your home. But your dogs or cats already at home—your "resident pets"—may not exactly share in your immediate joy and excitement. Taking the time to set up a structured, deliberate process for introducing your new dog to your current pets will increase the chances of safer, more rewarding meet-and-greets and long term relationships.
All introductions with your new dog—whether you're introducing them to your resident dogs or cats, or even your human kids—should occur in a structured, safe environment at a pace that is comfortable for everyone. Introductions should be thought of as a process, not a one-time, high-stakes encounter.
Read More