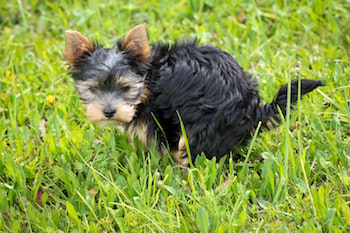 Though it may not be your favorite topic to think about or discuss, your dog's poop can actually provide some good clues about their health. Now, I'm not going to go so far as to say that, like the eyes are the windows to the soul, poop is the window to overall health … but it definitely can provide a glimpse! So here's the skinny on why you should go outside with your dog when they go to the bathroom and generally pay attention to your dog's poops. They could be trying to tell you something.
Dog Poo 'Ground Rules'
The poop and pooping characteristics outlined below are a general guide. What's also very important is a "change in normal" for your specific dog. For example, if your dog normally has slightly "soft" stools and is doing well, then all of a sudden develops firm, dryer stools … that could be an indication of a problem. Or visa versa. Or if they normally poop three times a day, and then suddenly start pooping just once a day (without any changes in diet or exercise), then that is a change that should be investigated with your vet. And so on.
Read More