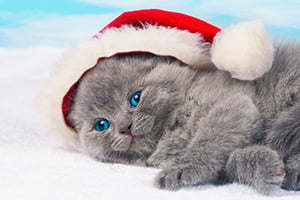 The gift-giving season has arrived, and for many children (and adults), a cute, snuggly dog or cat is on the list of what they are wishing for. Even though we know that dogs and cats aren't staring at a calendar lamenting their holiday plans, there is something especially festive and heartwarming about giving a home to an animal over the holidays, especially if it means getting them out of a shelter.
Over the years, there has been a lot of controversy when it comes to whether or not gifting a pet for the holidays is a good, or terrible, idea. Thankfully, from the data currently being reported, it seems as though a Hanukkah Husky, Christmas Calico, or Kwanzaa King Charles Spaniel isn't such a bad idea ... as long as you do it the right way.
The key to adding a new pet to your life the right way, is by being prepared — not just on the day you bring your new animal home, but for every day after. A pet is truly the gift that keeps on giving. Below you'll find tips on what to consider before getting a new dog or cat for the holidays (or any time of the year), and how best to prepare for your new pet!
Read More