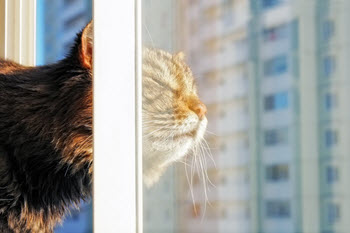 Sunny skies and warm weather typically are important elements to a great day – for both people and pets. During an especially nice day, you may even be tempted to curl up in a sunbeam with your pet, soaking up the Vitamin D. But warm weather also encourages people to open their windows, and for pet owners that live in buildings with more than two stories, this can lead to a very sad and scary condition called High-Rise Syndrome.

High-Rise Syndrome is a term coined by veterinarians at The Animal Medical Center in New York City due to the number and nature of injuries they were seeing from pets – especially cats – falling out of windows or off of fire escapes.

When Cats Fall:
They are likely to suffer injuries that extend well beyond broken bones.
Cats often wind up in this predicament after having been startled off their perch.
If your pet does fall out of a window, bring them immediately to your veterinarian for evaluation and treatment.
When cats fall, they are likely to suffer injuries that extend well beyond broken bones. This is particularly true when they fall from heights between two and seven stories. In such cases, it's common for them to sustain bruising to their heart and lungs, fracture of their lower jaw and roof of their mouth, and experience swelling of their brain. Many of these cats will also suffer a rupture of their urinary bladder, internal bleeding, and fracture of their ribs.
Amazingly, many of these cats can still survive and do quite well. However, the treatment process is long, painful, and expensive. Costs for treating severe High-Rise Syndrome cases are often in the range of $2,000 to over $5,000, and these pets are typically in the hospital for several days. These poor guys require true intensive care, often requiring supplemental oxygen therapy and temporary feeding tubes. This should all serve to highlight the importance of taking steps to prevent this emergency, as well as to prepare you for what you might expect should it occur.
Interestingly, and likely because of their flexibility and their uncanny ability to right their body and relax during such falls, cats that fall from heights over 7 stories typically sustain fewer and less severe injuries. But that's not to say that you should let them do it! Even these cats can suffer painful or fatal injuries.
Here's a great video about cats and High-Rise Syndrome from the folks at National Geographic, it's well worth a few minutes of your time to watch…
Read More