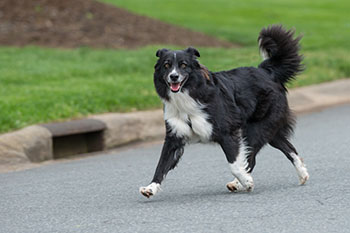 Having a loose dog approach you and your dog while you're out enjoying a walk can be a nerve racking experience. Is the dog friendly or will they bite? Are they a stray or did they escape from their yard somewhere nearby? Where is their owner? Are they wanting to come play with your dog or are they protecting their territory?
This scenario happens more than it should and it can be terrifying, especially if your dog has had bad experiences with off leash dogs in the past or you have a leash reactive dog who needs their space. Whether a dog has gotten loose from their owner (or the owner has decided to just ignore leash laws in the first place), or if it's a stray dog wandering the area, an off leash dog coming to investigate a leashed dog is a situation that you should try to avoid at all times.
The dynamics between a leashed dog and off leash dog are different than if both dogs were leashed or both were off leash. It's best to save the greetings for another time, when both owners are present, the dogs are either both leashed or both off leash, and after you've had a chance to find out more about the other dog's behavior and health history.
So what should you do if you're out on a walk with your pup and you see a loose dog approaching? There is inherent danger and risk to having a loose dog coming towards you and your dog. These following techniques may help keep your dog safe but every situation is unique. Use your best judgement. You could be putting yourself in harm's way in order to try and protect your dog. Hopefully the approaching dog is friendly and no one gets hurt.
Read More