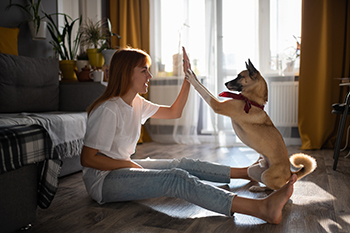 Do you want to teach your dog a neat new trick? Are you just getting started with puppy training and want to teach your dog the basics? I'm going to let you in on a dog trainer secret — when teaching dogs a new skill, no matter how simple or complex the behavior we want to train, we follow the same process every time. And once you learn this process, you can teach your dog anything!
One of my goals as a dog trainer is to equip my human students with the tools to understand how dogs learn and the training mechanics for them to easily and effectively put into practice on their own. This means they'll have the means to train their dog for life, not only building a robust human-canine relationship but also helping to prevent problem behaviors. This empowers them to pursue lots of different activities with their dogs, from competition obedience to other dog sports like Canicross, Flyball, or Agility.
Let's look at the process of how to teach your dog to do anything. Once you know these 4 steps, all you need is some creative thinking, problem-solving skills, and practice!
Read More