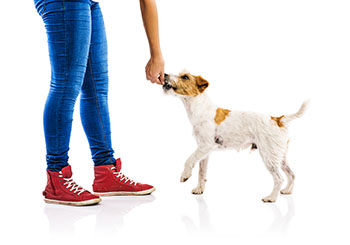 When you begin training your dog, it's all about finding a reward that your dog is willing to work for. When we go to work, we expect a paycheck, and it's only fair that we pay our dogs in their preferred currency for a job well done.
I don't know about you, but I'd probably accept bacon as my preferred currency. Maybe that's where the saying bringing home the bacon came from … but I don't think bacon would pay the bills. (And please don't ever give your dog bacon... it's a sure recipe for painful and expensive pancreatitis!)
Thankfully, almost every dog I've met is willing to do things for a piece of kibble, and even more excited to work for a little piece of chicken or cheese. You can take full advantage of your dog's desire for food, if you go about it the right way. Treats are just one tool in our dog training toolkit, and a very powerful one.
Read More