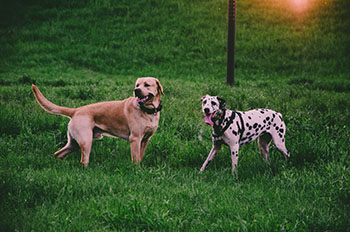 What do you picture when you imagine dog daycare? Groups of dogs romping and running, happy tails and wide open-mouthed doggie grins, and snuggle buddies relaxing after a morning of fetch and fun? This idyllic picture is what most dog owners assume dog daycare must be like for their pups — and for the most part, it can be!
You might be thinking about whether your dog will benefit from joining a dog daycare but not sure if they'll be a good fit. Or you might be wondering what it means when your dog fails a daycare trial. Or what if your previously-daycare-loving dog gets dismissed from daycare altogether? Does this mean you have a "bad" dog? Not at all!
Well-run dog daycares consider carefully what dogs will fit in with their existing play group and work hard to ensure all dogs in their care are having a good time. Safety is the top priority for these groups, but emotional and behavioral well-being is another thing that should always be considered — for your dog and for the others in the group. There are some management and training techniques that can be utilized in a group environments, but some behaviors are incredibly difficult to train or manage in a large play group.
Let's look at what canine temperaments do best in a daycare environment and what behaviors might mean that your dog will do better in a different set up.
Read More