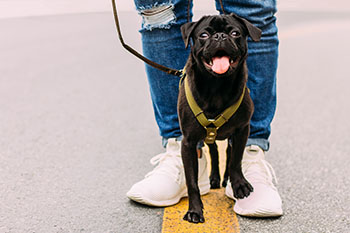 Teaching your dog how to walk politely on their leash is a lot easier and safer if you use a body harness.


Not only is a dog who pulls against their collar while on leash hard to control, but they're also in danger of some major health risks! Dogs who pull on leash can suffer a collapsed trachea, nerve damage, and other neck and throat injuries. For brachycephalic breeds (short-skulled and flat-faced dogs like Pugs, Boxers, French Bulldogs, etc.) harnesses are best to prevent any pressure on the neck and throat and exacerbating their already delicate face and short nasal airway. Using a harness helps to prevent these injuries from occurring and can also help you in training your dog to walk politely on leash.
A harness is a great alternative to aversive collars, giving you better control with a large, strong dog without relying on pain and discomfort. Harnesses provide another option for dogs that tend to slip or back out of their collars, as it's harder to wiggle out of a body harness than a regular flat collar.
There are many kinds of harnesses and it's important that you find the right kind for you and your dog. Keep reading to find out more about all the options.

Read More