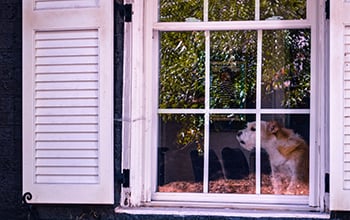 Does your dog have to let you know about any and every person or animal that passes by your home? There are many reasons a dog barks, and we call this kind of barking "alert" barking or territorial barking – something that we humans originally preferred dogs to do, and we bred for it in the domestication process.
I personally prefer that my dog bark once or twice to let me know that someone is approaching my door. However, alert barking becomes a nuisance when your dog is constantly reacting to everyone they see or hear walking by your home. Many apartment dwellers deal with alert barking (and frustrated neighbors) when their dog barks any time someone passes by their door, gets out of the elevator, or closes their own apartment door. The proximity of all the noises can be tough in an apartment setting for a dog. In this article we'll talk about what you can do to teach your dog not to bark at people or things they hear passing by or see through the window.
There are a few different reasons dogs will bark besides alerting to someone or something outside. It could be due to boredom, anxiety, fearful reactivity, or they've learned that barking gets them attention (even if this is just you yelling at them to stop), which is called "demand" barking. First you have to figure out what is causing your dog to bark, which then determines how to approach this problem behavior. A certified dog trainer can help you determine the trigger for your dog's barking if it isn't immediately obvious, and a wifi-enabled pet cam can also help. The most useful one for barking dogs is the Furbo Dog Camera. It will send alerts to your smartphone when it detects barking, has two-way audio so you can get your dog's attention, and has a fun treat-tossing option that can be pre-programmed or done directly from the app.
Alert and territorial barking is a normal dog behavior. Plus, it's very reinforcing for your dog.

Just imagine what they're thinking: "I barked to tell that person to go away, and it worked! I've got to do that again next time!" Your dog doesn't understand that the person was going to pass on by whether they barked or not. Does this sound like your dog? Read on for tips on how to teach them to be quiet instead.
Read More