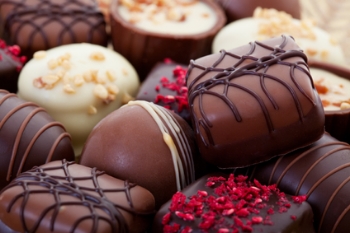 DAY 8: Chocolate
Hopefully you're already aware that chocolate is bad for dogs, but do you know why?
Do you know which types of chocolate are the worst?
Do you know what signs would give you cause for concern if your dog gets into chocolate – or if you think they might have?
Chocolate is too common a gift this time of year, and it's present in too many holiday-baked goods to not mention again. There's lots that you likely aren't yet aware of, and your pets will benefit from. Read our article on
chocolate toxicity
to learn more.
At this time of year, be cautious

Don't leave chocolate (or chocolate-containing foods) under the tree. Wrapped or not, your pets are sure to sniff them out and help themselves. Advise your friends, family, and other guests of this too, and though he should know better, be sure to mention it to Santa as well (perhaps write it on the note that you're planning to leave for him next to the milk and cookies.


Be careful what 'stuffers' you put in the stockings, and be sure to hang them well out of reach of your pets.


Don't leave desserts out on low-lying tables or near the edge of countertops. Be sure your guests and children are similarly cautious.

Be careful when doing the holiday baking... from chocolate chips (especially if dark) and chocolate bars to cocoa powder and blocks of chocolate, holiday baking often includes chocolate in quantities that can easily land your pet in the Animal ER.


Make sure your overnight houseguests keep their suitcases and other bags off the floor and that they keep the door to their room (and bathroom) securely closed as well. After all, you never really know what overnight guests bring in their suitcase, do you?
Read More