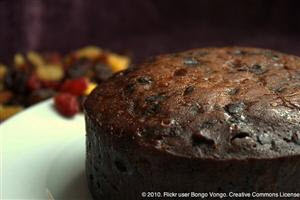 DAY 2: Fruitcake
Ah, the Christmas fruitcake! Whether you use it as a doorstop or an actual dessert, be careful around your pets with this staple of Christmas festivities. If the alcohol in these dense cakes doesn't cause a problem for your 'furkids,' the raisins, currants, and yeast they often contain likely will.
Raisins and currants
Most fruitcake recipes call for dried fruits, and this typically includes
raisins and/or currants
, which can be highly toxic to your dog's kidneys. Not all dogs are affected by the toxin, and we don't yet know what the exact toxin is. However, in those dogs that are affected, the result can be devastating, permanent, expensive, and potentially fatal acute renal (kidney) failure.
The costs associated with treatment for acute kidney failure can vary widely and will mostly depend on how quickly they receive appropriate medical care and how well they respond to it. When it comes to treatment for acute kidney failure, from any cause, not all medical facilities and their capabilities are the same. Given the need for round the clock IV fluid diuresis, intensive monitoring, and the benefits of advanced treatment modalities (such as dialysis or renal replacement therapy), cases of acute kidney failure can truly only be effectively treated in facilities that are staffed around the clock and typically in hospitals staffed by doctors and technicians with advanced training. *Note that this is not the same type of kidney failure that develops slowly in cats and dogs as they age, that type of failure is called chronic kidney failure and it can often be effectively managed in your regular veterinarian's office.
Alcohol
Similar to the effects it can have in people, alcohol can cause several problems in your dogs and cats. And unlike the uncle that everyone is embarrassed by at the holidays, it doesn't take much alcohol for your pets to get into trouble. While you won't typically need to worry about your intoxicated dog or cat getting behind the wheel of a car (unless their name is "Toonces" - check out this classic SNL
video
if that name doesn't ring a bell), you still have to worry about the results of their alcohol ingestion none the less.
Alcohol can lead to both metabolic and neurologic problems in your pets that can result in vomiting, breathing problems, coma, and death. Given the high 'proof' of many Christmas fruitcakes, you'd be wise to take the steps necessary to keep them well out of your pet's reach. And keep the wine glasses and cocktails off the low-lying tables too while you're at it.
Uncooked yeast
Some fruitcake recipes call for yeast to be used in the dough, making the uncooked dough a potential danger to your curious or mischievous pet. As I covered in this
Thanksgiving Pet Safety
article, uncooked yeast can cause a very dangerous buildup of alcohol and gas within your pet's stomach resulting in their death or a very stressful trip to the veterinarian.
Be aware
Whether you call it 'fruitcake,' 'stollen,' 'panettone,' or 'birnenbrot,' these laden-with-fruit cakes can pose a variety of dangers to any pet that might venture to try them. From kidney failure to a gas distended stomach leading to cardiovascular collapse and shock, the potential hazard (and cost) is high.
What to do if your pet eats fruitcake
If your pet does get into the holiday fruitcake, cooked or uncooked, contact a veterinarian or pet-specific
poison control hotline
immediately for advice. Especially in the case of raisin and currant or raw yeast ingestion,
time is of the essence!
If your pet is staggering, attempting to vomit without success, or has collapsed, bring them for immediate veterinary evaluation. Do not attempt to induce vomiting without first speaking with a vet.
Always remember...
Put uncooked bread dough in the microwave or conventional oven to rise, rather than leaving them out on a countertop or table.
Don't leave a fruitcake under the tree... wrapping paper is no match for a dog's nose and teeth.
Keep your pets well away from the dessert table. Better yet, give your pets their own 'safe room' to stay in while the family enjoys Christmas dinner.
Be careful where you put your dessert plate down.
Make sure that all of your guests are aware of the dangers associated with this and all the other common pet hazards associated with the holidays.
Read More