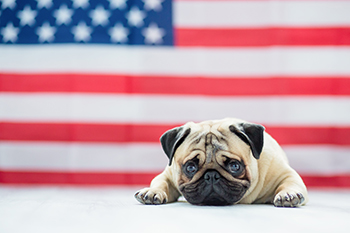 While July 4th celebrations can be tons of fun for us humans, the loud bangs and other fireworks noises can be downright terrifying for many dogs. Even dogs who don't suffer from thunderstorm phobia or other noise aversions can become stressed by all the hubbub and flashing lights in the sky.
Dogs may show anxiety or stress in a variety of different ways. Pay attention and learn to recognize these signs for what they may mean. Signs of stress can include: panting, trembling, drooling, pacing, hiding, trying to escape, decreased appetite, potty accidents, dilated pupils or wide eyes, and whining or barking.
Luckily, there are a few things you can do to help your dog through the fireworks and lessen their stress and anxiety. Let's look at things you can do ahead of time to prepare your dog, as well as things you can do the actual day of July 4th to lessen their stress!

Read More