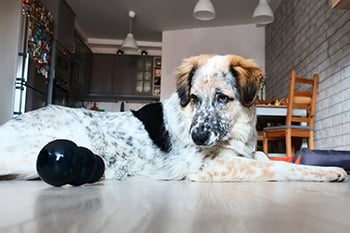 Want to include your dog in the Thanksgiving feast? Make a Thanksgiving-themed stuffed KONG to give them during dinner (or while guests arrive). Not only is this a fun treat for them, it's a healthier way to include them in the festivities than to sneak them table scraps. Stuffed KONGs are a wonderful training tool to create positive associations with safe spaces, crates, visiting company, and other hustle and bustle.
Watch Cathy and Marissa in this Facebook Live to see 4 easy Thanksgiving stuffed KONG recipes:
Thanksgiving Stuffed KONG Recipes
Recipe #1: The "Basic" Stuffed KONG
Dry dog food
Wet dog food
Peanut Butter
Recipe #2: Stuffed KONG for Sensitive Stomachs
Rice
Boiled, de-boned chicken
Pumpkin (pure pumpkin, NOT pumpkin pie filling)
Recipe #3: Pumpkin Pie Stuffed KONG
Pumpkin
Peanut Butter
Smashed Banana
Recipe #4: Post-Feast Dessert Stuffed KONG
Smashed banana
Peanut butter
Dog treats or dry dog food
Honey
Plain Greek yogurt
Have a favorite Kong stuffing recipe that your dog enjoys? We'd love to hear about it! Share your KONG stuffing recipes in the comments below.
From all of us at Preventive Vet — wishing you and yours a happy, healthy, and safe Thanksgiving. Gobble gobble!
Related Articles