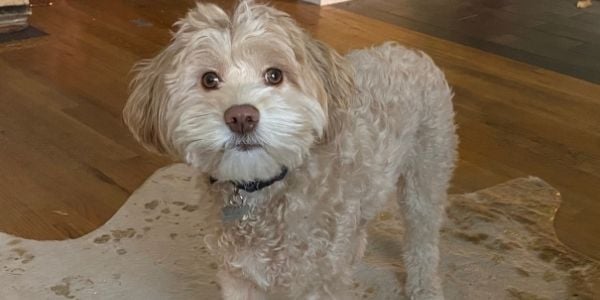 Our dog Mary Berry has been on the anxious side since we brought her home as a puppy. The smallest noises or movements can still send her skidding across the room.
She's fairly timid and shy around new dogs and experiences. You'll find her socializing with the humans and snubbing her doggy friends at the dog park.
While her general anxiety wasn't overly troublesome, her separation anxiety made us worry about leaving her alone.
We thought that maybe Mary Berry would grow out of her separation anxiety, but when her symptoms stuck around for more than a year, we knew we needed to address it.
Managing Separation Anxiety
While she'd always been anxious when left home alone, we were able to easily manage her anxiety when we lived in an apartment. She would bark and jump at the door for only about five minutes, then settle by the door the rest of the time we were gone. When we were home, she'd follow us from room to room, unable to let us out of her sight. She was like a constant shadow. And she loved to trail toilet paper through the apartment and make confetti out of it if we accidentally left the bathroom door open. The worst it got was when she chewed up the baseboards and wall next to the front door while we were at work.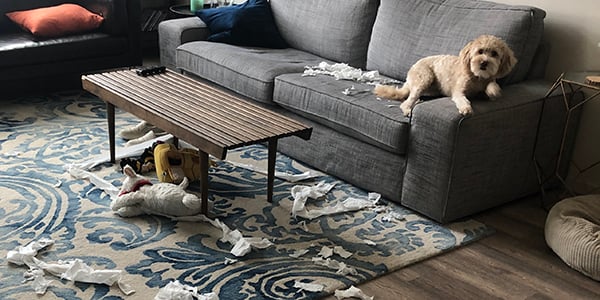 We worked with a certified dog trainer to help manage these separation anxiety symptoms and started a consistent routine my husband and I would do each time we left the apartment. After a few weeks, the routine and training helped Mary Berry to relax and even settle on the couch while we were gone. While her separation anxiety wasn't fully treated, it was easily managed and she knew the routine.
Moving with an Anxious Dog
But her anxiety returned last December when we decided to move to a house. Moving from an apartment to a house meant more space and a yard for Mary Berry to enjoy. While she enjoyed roaming the yard and chasing squirrels, her separation anxiety symptoms returned — and became much worse. The new environment was harder to manage for anxiety, as now she could see out the windows much more easily than in our fifth-floor apartment.
The most troubling symptoms were caught on our Wyze video camera that we'd set up to be able to check in on her while we were away. It showed her jumping at the door, pacing between the front window and the door, and vocalizing the entire time we were gone — whether it was to take the trash out, or for a more extended period of time.
In this video, you can see Mary Berry's anxious behaviors before we started treatment:
My husband and I felt guilty for leaving her alone, even for the smallest amount of time. That meant one of us needed to work from home if I wasn't able to bring her into work. We worked with our dog trainer again to create a routine at the new house. It seemed to help her vocalizing decrease a bit, but her pacing and watchful waiting still continued. She wasn't able to rest until we came home.
Calmer Canine Separation Anxiety Solution
Calmer Canine is a device that uses a specifically tuned microcurrent signal to help lower a dog's anxiety symptoms. The treatment system comes with the Calmer Canine device and a vest that holds the device in place during treatment.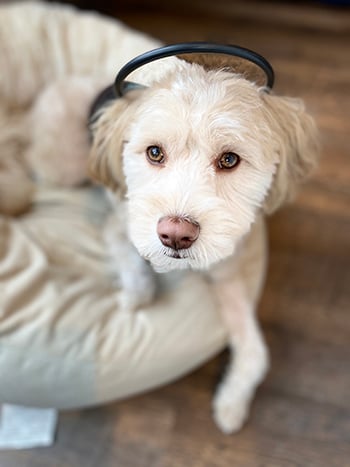 Rather than using the vest that comes with the device, we simply held the device at the base of her neck for 15-minute treatments twice a day. Mary Berry loves her cuddle time, so sitting with her for 15 minutes was a great time to just sit, drink my coffee or read a book, while she laid on my lap.
Most of the time, she'd simply fall asleep during her treatment because she was so relaxed. She'd even stay resting when I'd get up after her treatment was complete! This never happened before since she had always been worried about where I was going or if I was leaving her behind. Any movement usually got her up and following me wherever I went.
We used the device for six weeks, but I started to see a difference in her behavior in just the first week.
I didn't think we'd see a difference so soon, but after three days, I noticed that she wasn't following me around as much. After her treatments, she'd stay laying on the bed, relaxed and content.
Here are some clips that show Mary Berry's progress after combining her training with Calmer Canine treatment:
Overall, she was just less anxious, and she was able to settle after about five minutes. Our dog camera helped us track her progress while we were gone. She went from not being able to calm down at all to settling within five minutes after we leave. She now sleeps for a majority of the time we leave. Last week she even ate when we weren't home — something that has NEVER happened before Calmer Canine.
I highly recommend Calmer Canine — not only for separation anxiety but general dog anxiety. Mary Berry has been a more relaxed, confident dog since completing her six-week treatment with Calmer Canine. And because she is less anxious, we can leave the house for a few hours at a time without worrying that she is having a panic attack.
Mary Berry's Separation Anxiety Symptom Scores – Before and After Calmer Canine Treatment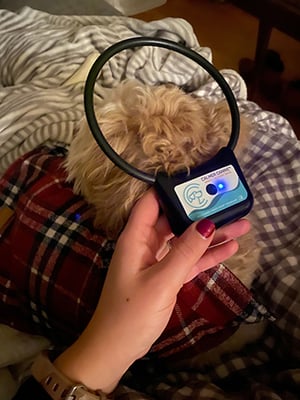 Before we moved, I took Calmer Canine's separation anxiety quiz. Mary Berry scored somewhere in the middle — the symptoms she showed "may or may not be" separation anxiety. I retook the quiz after we moved in December and her symptoms scored "likely" to have separation anxiety.
We tracked her progress using the included symptom tracking worksheet and treatment log. It really helped us keep track of her symptoms and feel like we were getting somewhere. Because we see her every day, it can be difficult to see a difference from the day or week before. But when we looked back to previous weeks, we were able to see progress in things like her following us everywhere and her watchful waiting.